Perched between 1,700 m and 1,800 m above sea level, Nairobi, the capital of Kenya, is a destination just 150 km from the equator. Before it took its place, at the beginning of the last century, Mombasa was the capital. But the Uganda/Kenya railway line had just reached Nairobi, trade and business would move north and Nairobi rose in rank. On another level, Nairobi has the pretty track record of being the capital with the greatest variety of birds in the world. Within the city itself, there is a beautiful and remarkable botanical garden and a national park named after him. The headquarters of the United Nations Environment Programme (UNEP) is in Nairobi. This shows that the environment plays an important role. The capital is not only the starting point for magnificent safaris to the mountain and savannah national parks. In Nairobi itself, you can visit and support the David Sheldrick Elephant Orphanage, to be combined with the discovery of the Giraffe Centre and the Karen Blixen Farm Museum. Take a guide for a historical tour in the city or a shopping trip to the Masai market. Don't miss the Railway Museum, or the emblematic National Museum next to Snake Park where boas spitters, mambas and a 7 m long python evolve... And don't forget to bring your tour guide with you!
When to go to Nairobi?
When to go to Nairobi? The best periods to travel to Kenya and Nairobi in particular are January and February, on the one hand, and August and September, on the other. In concrete terms, the periods to avoid are those of the two rainy seasons. The main rainy season is in April and June, the small rainy season in November and December. Some trails, or even some paved roads, are then difficult to use and make visits to parks or villages random. Wild animals are then more difficult to observe.
Weather at the moment
Weather all year round
The climate of Nairobi is tropical, close to an equatorial climate but tempered by altitude, with cool mornings that can become cold during the rainy seasons. Nairobi has two rainy seasons, one between April and June, the other in November and December. Temperatures vary on average from 12 to 24°C in Nairobi, with an annual average of more than 20°C. If you go camping on the heights, be aware that the nights can be cold.
January

11°C
25°C
February

11°C
26°C
March

12°C
26°C
April

14°C
24°C
May

13°C
23°C
June

11°C
22°C
July

9°C
21°C
August

10°C
22°C
Sept.

10°C
24°C
October

12°C
25°C
Nov.

13°C
23°C
Dec.

12°C
23°C
Budget
The local currency is the Kenyan shilling (Ksh), however hotels and local travel agencies also accept dollars and euros. Long reserved for wealthy tourists, Kenya has become more affordable, even if this destination is not the most economical on the market. However, safaris and luxury stays are always possible. Be aware that in off-peak periods, from April to June and in November, many hotels lower their prices. Tipping is mandatory.
Procedures
EU nationals must pay a tourist visa (€50) for a stay of less than three months. Please note that the visa is free for children under 16 years of age accompanied by their parents. Visas can be obtained at the Kenyan Embassy in Paris, online on the eCitizen platform or upon arrival at Nairobi or Mombasa airport.
Health
The yellow fever vaccine is required to enter Kenya and stay in Nairobi. A certificate can be requested from customs. Malaria is very common below 2,000 m asl, so in Nairobi, even if the situation is better than in the plains, especially during the rainy season. Running water is not drinkable in Kenya, drink only bottled or boiled water. And of course, protect yourself from the sun like mosquitoes.
How to go to Nairobi? Our advice & tips
Organised trips

Going alone

Moving around
Safaris in the reserves of Maasai Mara, Amboseli, Tsavo or Lake Naivasha are on the menu of all travel agencies. It is the means of transport that differs from one safari to another, in 4x4, on foot, on horseback, on motorcycle or even in a hot air balloon. Accommodation during safaris is provided in campsites or even lodges in or near reserves. Many agencies also offer to conclude the trip with a stay on the beaches of the Indian Ocean, in Mombasa or Nairobi
Discover our selection of travel agencies for this destination
There are direct flights from Europe to Nairobi and Mombasa. The two cities are connected by several daily flights. The capital is 440 km from Mombasa by the A109 road, crossing through the Tsavo Natural Park. A railway also connects Nairobi and Mombasa. Please note that it is not allowed to enter national parks without a guide for safety and environmental protection reasons, so you will always have to go through a local agency, large or small. In solo, of course, you will be able to go further off the beaten track. Generally a safari organized for one or two people is much more expensive than a group safari.
Attention: in Kenya we drive on the left! It is easy to travel in the south of the country by public transport. Buses are generally reliable, comfortable and punctual. The road network is quite dense even if the roads are sometimes related to tracks, which is a problem in the rainy season. The train connects Mombasa and Nairobi. The two cities are also connected by air.
Prepare for your trip Nairobi
Transportation
Book a ferry

Car Rental

Taxi
Accommodations
Find a hotel

Holiday rental
Services / On site
Book a table

Activities & visits
Pictures Nairobi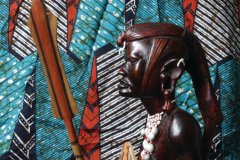 Discover Nairobi
Practical information