California's must-see attractions
Passionate, fascinating, sometimes even revolting, California never leaves anyone indifferent. If the greatest have sung and filmed it, from the Eagles to the Red Hot Chili Pepper, the best thing is to live it to the fullest by exploring its territory as big as three quarters of France. Arid deserts, sprawling cities and authentic national parks: that's what awaits you on a road trip in the Golden State! Petit Futé takes you on a journey of discovery through this legendary state where an optimistic and relaxed atmosphere prevails, ideal for the beginning of the year.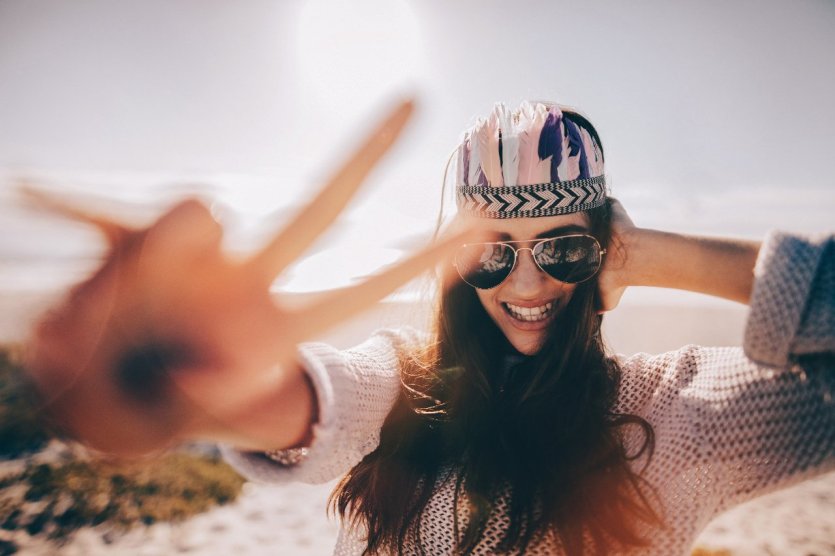 Big Sur, the wonderful coast
Big Sur is a succession of splendid landscapes that stretch 140 km along the American West Coast, about 230 km south of San Francisco. You will see the most beautiful coves in California where the ocean is calmer and brighter. More than a paradise area, Big Sur is a state of mind. Here artists and hippies met in the 1950s and 60s to withdraw from the world and American society: this is the case, in particular, of Henri Miller who lived there seventeen years as a hermit. A magical, almost mystical place.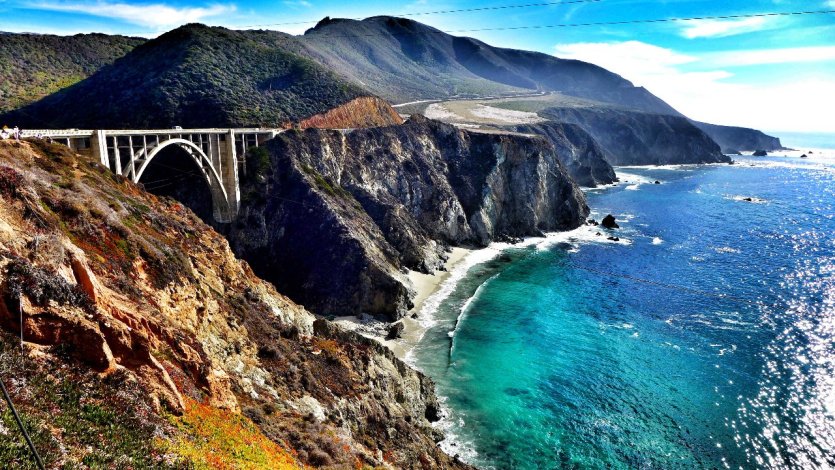 Palm Springs, the jet set
At the bottom of the Colorado Desert, Palm Springs is dominated to the west by the snow-covered mountains of San Jacinto. This landscape is absolutely incoherent since Palm Springs has one of the mildest climates in California: the sun shines 350 days a year and it rains very rarely! It is this paradox that gives Palm Springs its charm. Here, many people took up residence in the 20th century, so much so that today the city is still very "jet-set" (Cher's husband was mayor there a few years ago...).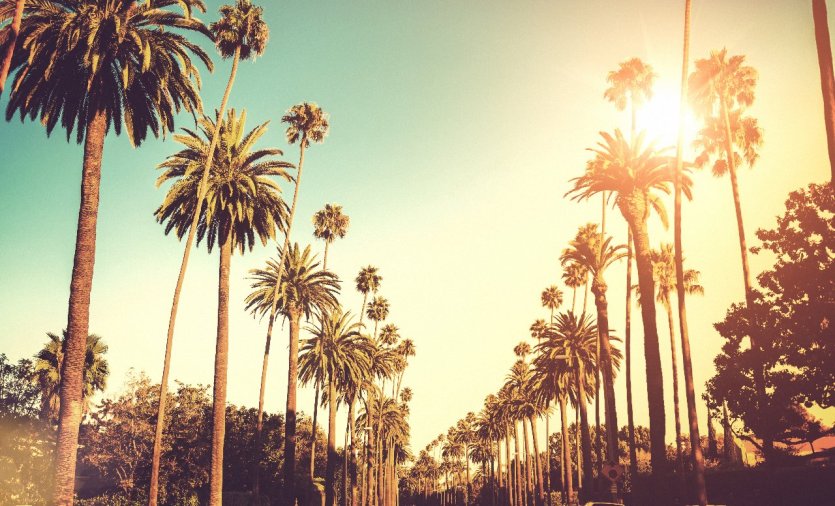 Joshua Tree National Park, in the heart of the desert
Here, two deserts meet: the Colorado Desert and the Mojaves Desert. It is in the latter that the Joshua Tree (Joshua's tree) grows, a palm-cactus tree that gave its name to the park. This region of large dry spaces is typical of California. It is the setting for the conquest of the West and there are many mining villages there. The ideal time to visit this national park is spring: the climate is a little milder and above all, in March-April, the vegetation is in bloom. The desert then turns red, yellow and blue... It's splendid.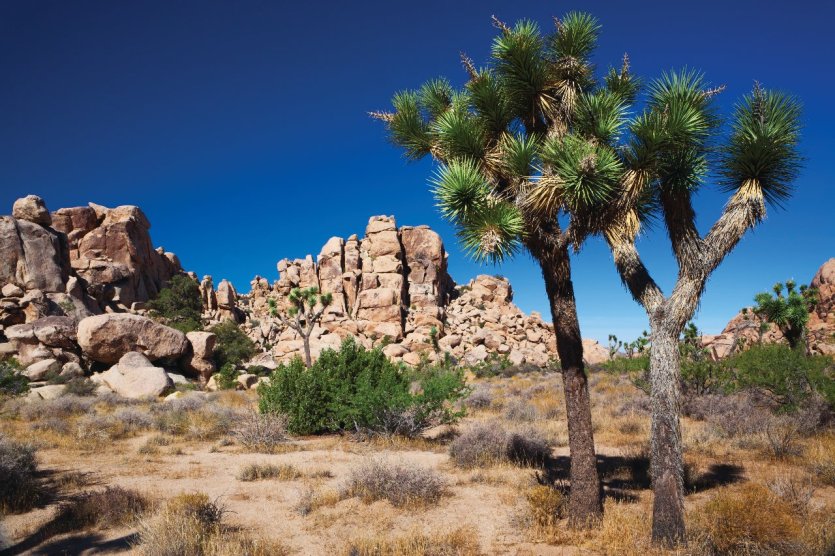 Lake Tahoe, on the edge of Nevada
This lake marks the border between two states, California and Nevada. Located in the Sierra Nevada, it stands out from the other bodies of water that make up the area by its stunning depth: 500 m! It is the second deepest lake in the world. Glacial but not volcanic, it was simply formed by the collapse of the surrounding terrain. Two seasons stand out: in winter, covered with snow, it borders a ski resort: South Lake Tahoe. In summer, it is a resort with beaches and hiking trails... In addition to these activities, the lake will also delight fishermen. With about sixty rivers flowing into it, it is very fishy!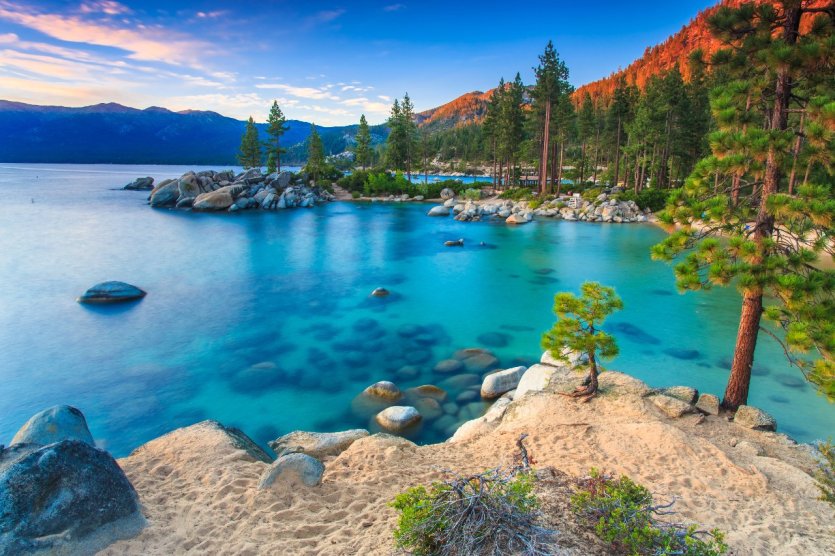 Santa Barbara, the American Riviera
Small haven of peace, clean and elegant, Santa Barbara had all the ideal decor for a soap opera with rose water... but not only! Located at the foot of the Santa Ynez Mountains, it shelters many ranches in the hills typical of the region. Its architecture gives it all its charm: of Spanish influence, it is the testimony of the history of the city, long colonized. Today, we also visit Santa Barbara for the wine productions of its hinterland: the opportunity to discover the products of the Californian soil!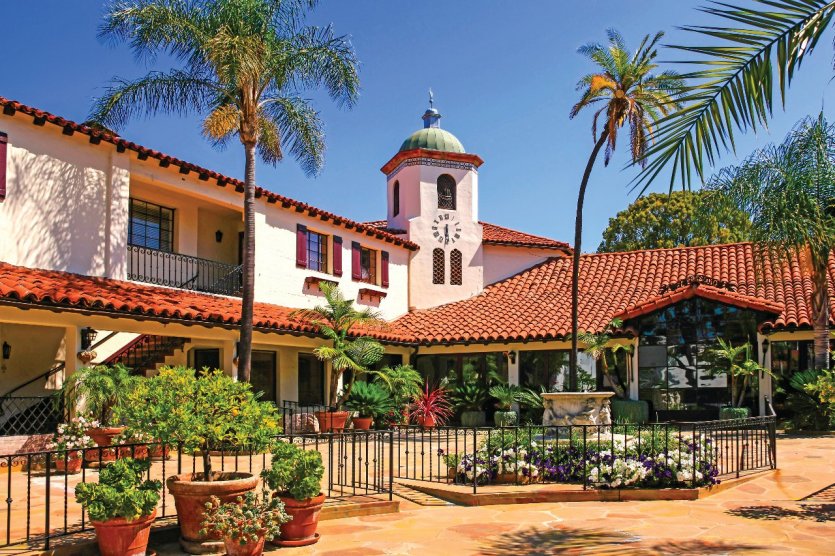 San Diego, the history
On the Mexican border, San Diego is the southernmost city in California. It is the cradle of the region's history: in 1542, the Spanish first set foot there before taking possession of the land. Today, the must-see is Sea World, one of the largest marine parks in the world. Young and old alike will be impressed by penguins, sharks and, above all, the gigantic killer whale that makes a spectacle of itself every day. At the end of the day, enjoy the sunset at Sunset Cliff before heading to Ocean Beach for a walk along the ocean. That's the best!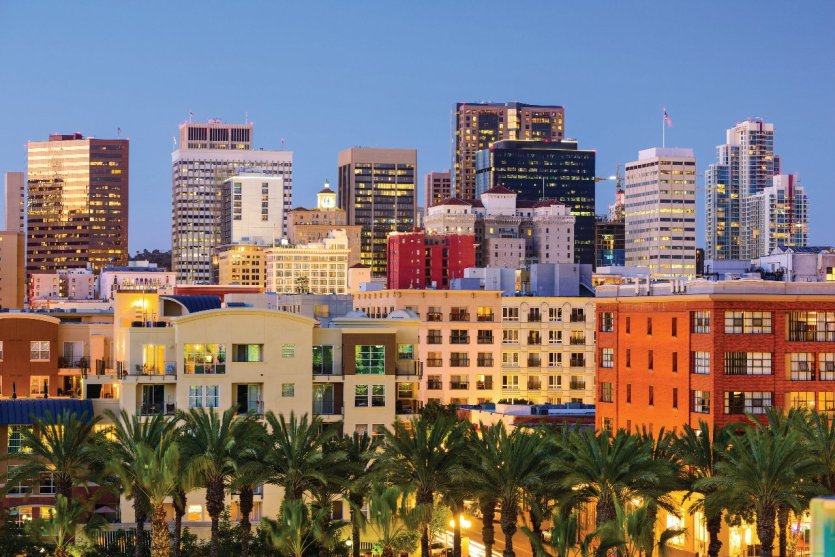 Death Valley, the terrifying
With an area of 13,350 square kilometres, Death Valley is the largest national park in the United States. This immense desert shelters sumptuous landscapes but also fascinating ghost villages, witnesses of the gold rush of the 19th century. The reputation of the Death Valley is well established: it is one of the hottest places in the world. You will then discover a territory burned by the sun, endless sand dunes but also pretty surprises like the lunar landscape of Bad Water, the lowest point in the United States.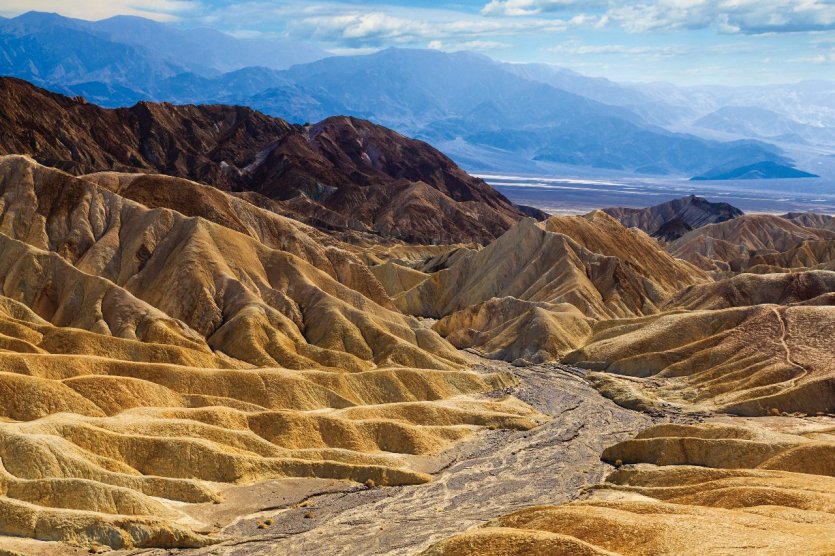 Yosemite National Park, a must
In the mountains of the Sierra Nevada, Yosemite National Park is one of the most visited natural sites in the United States. Its name comes from an Indian tribe exterminated in the middle of the 19th century: the Uzumatis. In Yosemite Park, you will discover a summary of what American fauna and flora has to offer: sequoias, pumas, bears... The granite domes are the symbol of the park and El Capitan is the highest cliff in the world: every year, many climbers come to face it. But to see the most beautiful panoramas, it is Glacier Point that you must reach. Perched on a cliff, this spectacular viewpoint dominates the valley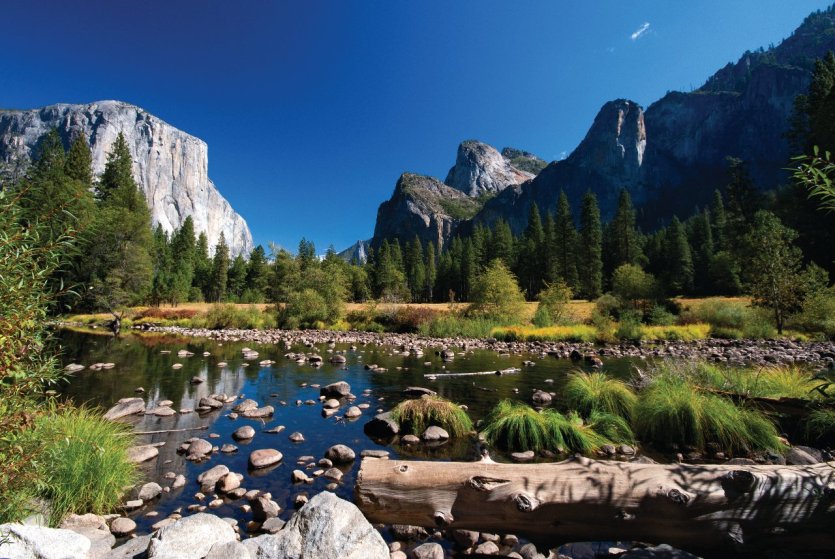 Los Angeles, the City of Angels
Los Angeles is the city of entertainment, American-style entertainment. A visit to the film studios is a must! You will discover the behind-the-scenes of your favourite series and films before strolling along the famous Walk of Fame, a world-renowned boulevard where the prints of the greatest stars are to be found. Capital of the West Coast, Los Angeles is a sprawling city made up of 88 districts! It's hard to find your way around! Despite this, it has managed to preserve the charm of the American West. It is in Venice and Santa Monica that you will taste it along the promenade facing the Pacific where many surfers come to practice.... Welcome to L.A.!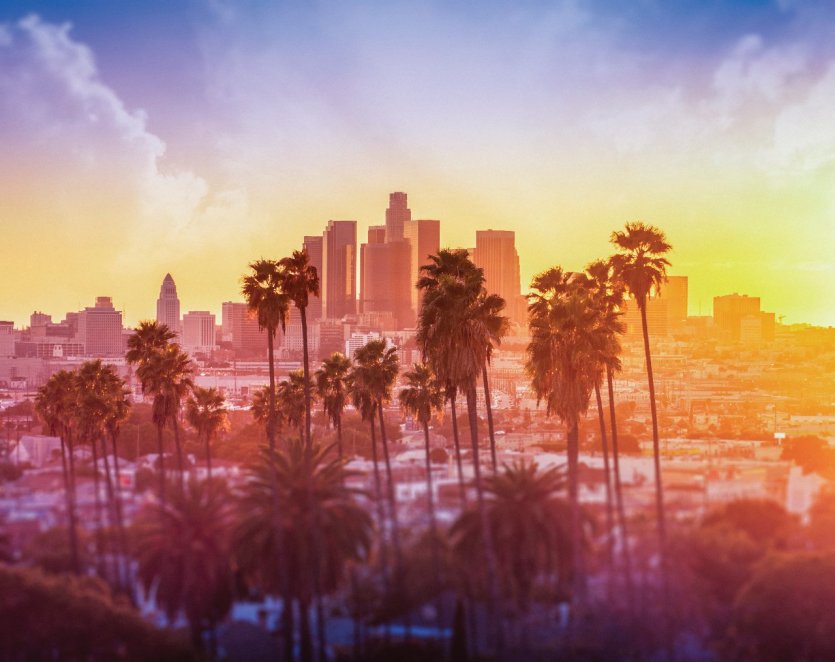 San Francisco, a multiple city
San Francisco has always stood out for its cultural diversity and non-conformism. Bohemian capital, it is one of the few large American cities where the city centre is not overrun by skyscrapers: here, it is the Golden Gate that breaks the scene! This red steel giant is one of the strong symbols of the United States, it is one of the seven wonders of the modern world. Visiting San Francisco also means immersing yourself in its changing culture through the neighbourhoods you reach on board the Cable Car, a traction tramway that climbs the city's sloping streets. If you like, you can even visit Alcatraz prison, located on a small island that is easily accessible by ferry. A definitely fascinating city!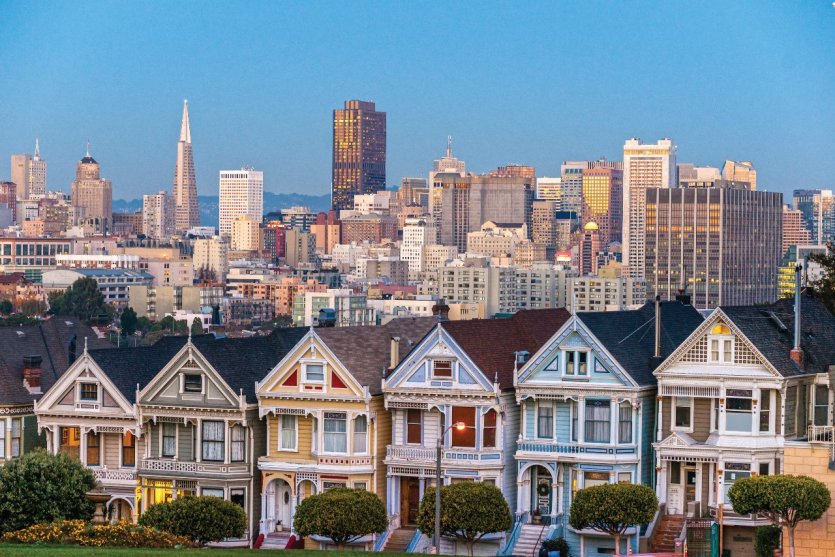 Bodie, ville fantôme
Visiter Bodie, c'est plonger dans le Far West. Décrétée parc national en 1962, Bodie est une ville fantôme où le temps semble s'être arrêté. Très active au temps de la Ruée vers l'or, Bodie a été délaissée par ses habitants une fois que le filon fut complètement exploité. Aujourd'hui abandonnée, on peut encore voir ses saloons où les joueurs ont laissé leurs jetons de poker, ou la pharmacie dans laquelle les fioles sont recouvertes de poussière.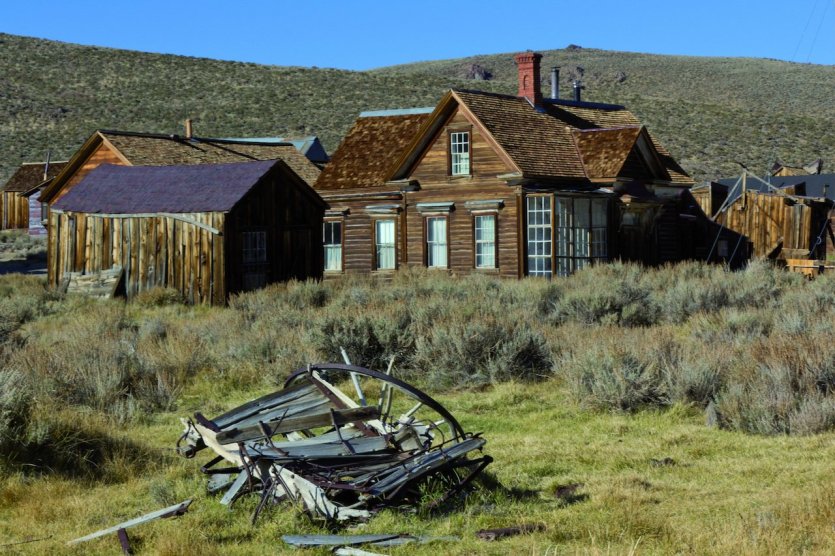 La vallée de Napa, région viticole
Au nord de Marin County, la vallée de Napa est l'une des principales régions viticoles des États-Unis. Le climat méditerranéen de la Californie permet la culture de vignobles de qualité qui produisent un vin reconnu dans le monde entier, vous pourrez le déguster dans les nombreuses winery, ou établissements vinicoles. Pour découvrir la vallée de Napa, il faut parcourir la Silverado Trail qui relie Napa à Calistoga. Cette route traverse les vignes dans un décor bucolique somptueux.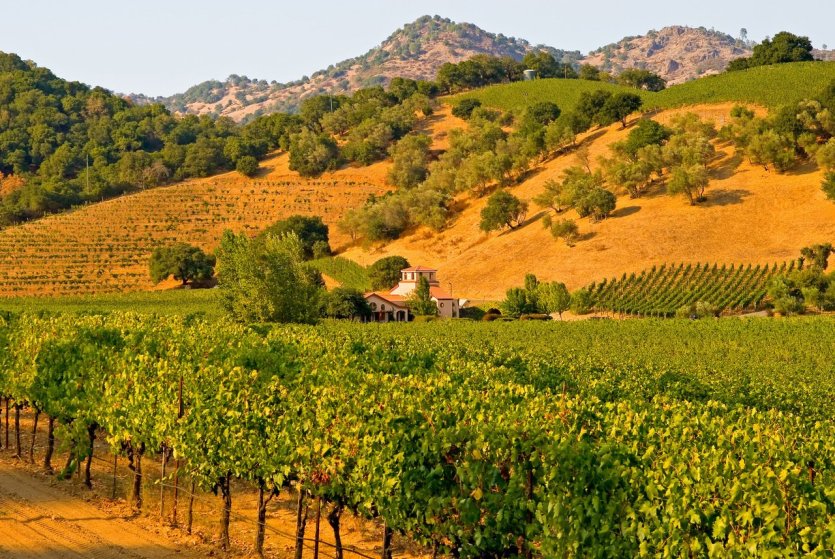 Sacramento, la Ruée vers l'or
Sur la route de la Sierra Nevada, Sacramento est la capitale de la Californie. Elle a connu son heure de gloire dès 1848, lors de la Ruée vers l'or. Aujourd'hui, Sacramento accueille de nombreux jeunes actifs qui lui offrent un vent nouveau. La ville est réputée pour son dynamisme, mais aussi pour son empreinte historique forte dont témoigne le quartier Old Sacramento au charme désuet de western. Tous les ans en juillet, la State fair (la foire d'État) illumine la ville avec ses feux d'artifice et ses concerts.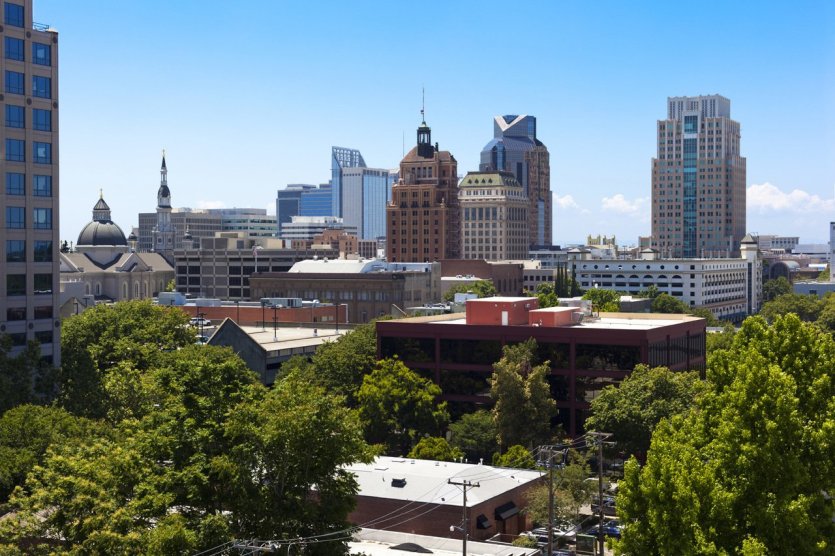 Channel Islands, un archipel fantastique
Les huit îles de l'archipel de Channel Islands se situent au large de Los Angeles. Il jouit d'un écosystème méditerranéen protégé dans cinq de ses îles qui forment un parc national insulaire de plus de 1 000 km². D'Anacapa à Santa Cruz en passant par Santa Rosa, toutes les îles de l'archipel abritent des beautés uniques comme une faune endémique composée de renards gris et d'aigles à tête blanche. Si ces îles ne sont pas habitées, on y trouve des campings qui permettent d'y passer la nuit dans un cadre unique et encore méconnu.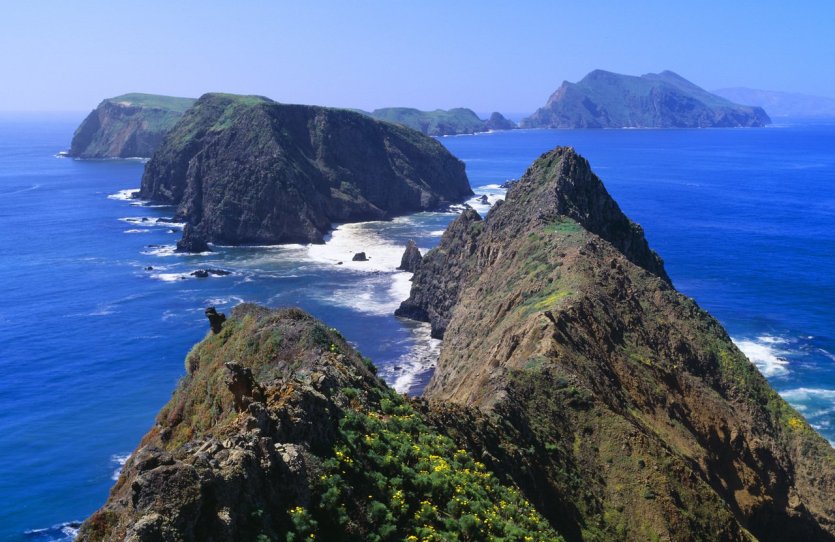 Le Sequoia National Park, bien plus qu'une forêt
Sur le versant ouest de la Sierra Nevada, le Sequoia National Park s'étend sur 163 000 ha. Les États-Unis ont créé ce parc en 1870 pour préserver ces arbres géants souvent abattus. Comptant parmi les êtres vivants les plus volumineux de la planète, les séquoias peuvent mesurer plusieurs dizaines de mètres de haut, c'est le cas par exemple du General Sherman et ses 90 m. Souvent vieux de plusieurs milliers d'années, ils sont l'une des principales mémoires de la Californie.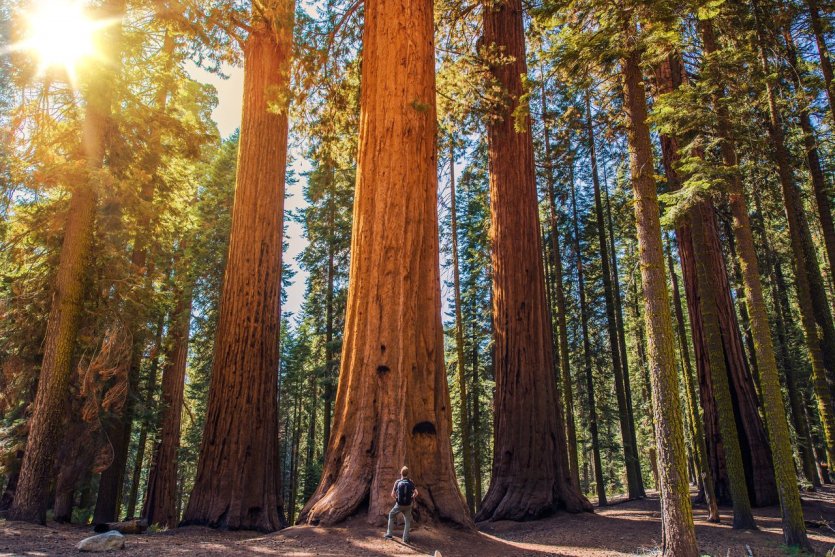 Salvation Mountain, montagne psychédélique
Comme sortie de nulle part, au beau milieu du désert du Colorado, la Salvation Mountain – la Montagne du Salut – est l'œuvre de Leonard Knight, aujourd'hui décédé. Surmontée d'une croix géante et d'un message rouge bien visible : « GOD IS LOVE », Salvation Mountain est une montagne en adobe recouverte de divers mots et dessins peints : versets de la Bible, fleurs, cœurs... Salvation Mountain et son créateur apparaissent dans le film Into the Wild de Sean Penn. À voir absolument !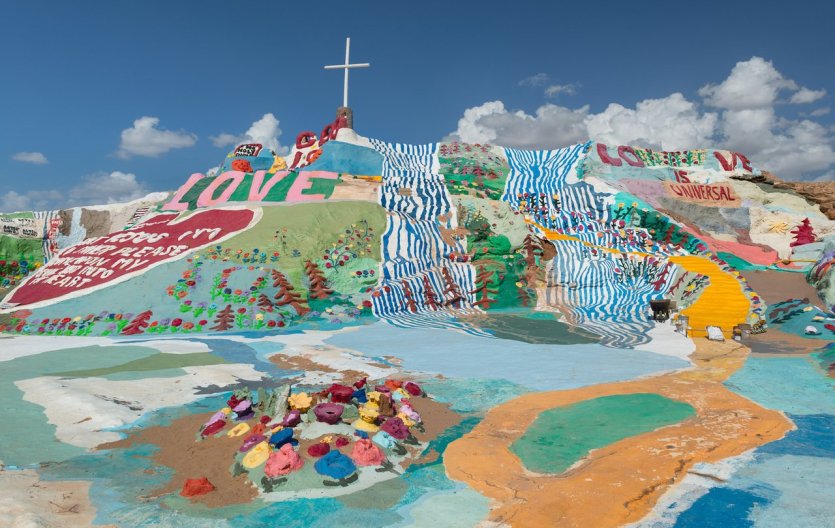 Le Queen Mary Pier, une visite de luxe
Le Queen Mary fut l'un des plus luxueux paquebots transatlantiques du monde. Baptisé en 1936, il a été affecté au transport des troupes durant la Seconde Guerre mondiale. Aujourd'hui, la ville de Long Beach en est devenue propriétaire et propose des visites découverte de ce bateau Art déco au raffinement unique. Un hôtel se situe même au cœur du paquebot et accueille ses hôtes dans les cabines les plus luxueuses.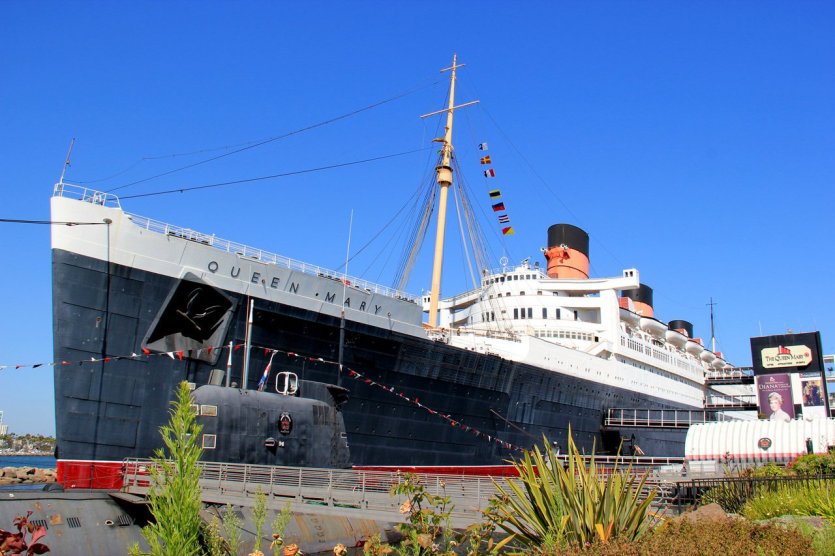 Alcatraz, aux portes du pénitencier
Cette île de la baie de San Francisco est à jamais liée au centre pénitencier qui s'y est installé en 1850. Si Alcatraz se situe à seulement un mile des côtes, il était impossible de s'en échapper : les requins et les eaux gelées sont une barrière quasi infranchissable. C'est ici, notamment, qu'Al Capone fut emprisonné. Fermé depuis 1963, le centre pénitencier est aujourd'hui ouvert au public. Munissez-vous de l'un des audioguides présents à l'entrée, ils assurent une visite immersive unique !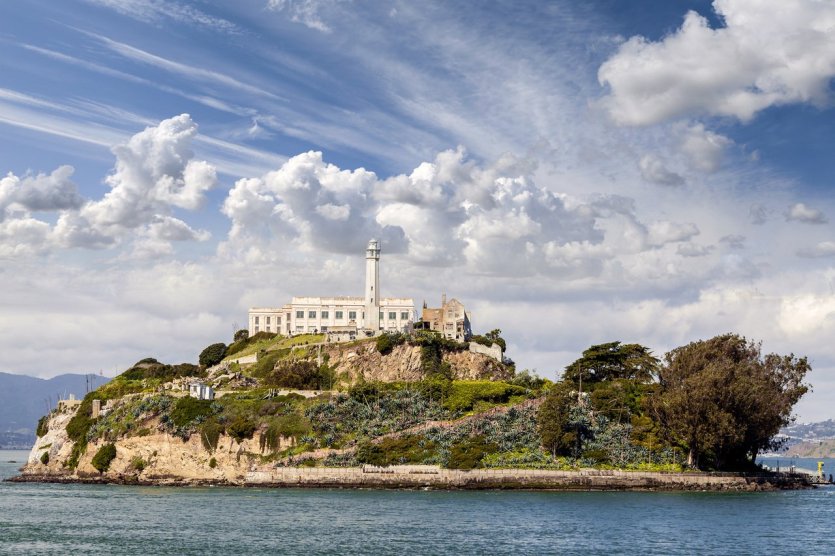 Mammoth Lakes Basin, de lacs en lacs
À quelques kilomètres de Yosemite, Mammoth Lakes Basin est un site méconnu qui vaut pourtant le détour. Ces nombreux bassins d'altitude, dont le bleu émeraude des eaux contraste avec le vert de la forêt, sont d'une beauté fascinante. On rejoint ces différents lacs grâce à de nombreux sentiers de randonnée. Une piste cyclable longe aussi le Lake Mary pour rejoindre le Horseshoe Lake. Un très beau site de promenade.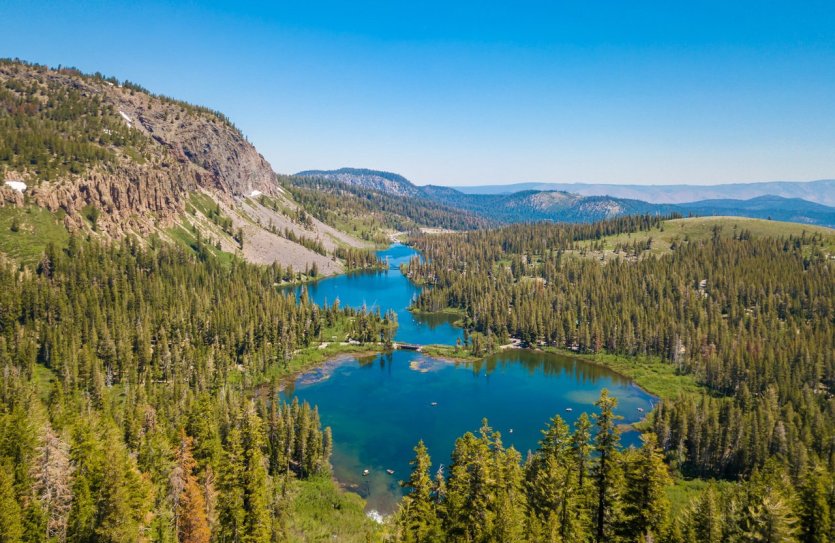 Point Lobo State Reserve, entre terre et mer
On raconte que R.L. Stevenson se serait inspiré des paysages de Point Lobo State Reserve pour son Île au trésor. Il est vrai que cette réserve d'État a tout d'un décor romanesque, c'est incontestablement l'un des plus beaux endroits pour admirer la côte californienne. Otaries, phoques, loutres et baleines vivent dans ce havre de paix délimité par une côte rocheuse truffée de cyprès. Les randonnées sont accessibles à tous, pensez à prévoir des jumelles pour profiter du paysage !