Queenstown
Travel Guide

Book a flight

Find an accommodation
It is one of New Zealand's most popular tourist destinations. Queenstown is a small, sophisticated and very picturesque town between lake and mountain, set in a sumptuous wilderness. In the south of the South Island, on the shores of Lake Wakatipu and at the foot of majestic mountains, the Queenstown region is popular with adventure sports enthusiasts. The program includes rafting, rock climbing, jet boating on the Shotover and Dart rivers, bungee jumping from the Kawarau Gorge suspension bridge, paragliding, cruises on wild Lake Wakatipu and, in winter, powder skiing on the slopes of Remarkables and Coronet Peak. There are also less spectacular activities such as golf and spa treatments, visits and tastings in the surrounding vineyards and the discovery of old gold mines. Not to mention that the city of Queenstown is a shopping spot with nice little boutiques for fashion, food and crafts. In summer, the Saturday morning market is a real treat. And, of course, fans of the Lord of the Rings will go in search of the filming landscapes of the mythical saga.
Read more
What to visit Queenstown?
Suggested addresses Queenstown
When to go to Queenstown?
It's up to you and your abilities. Skiing in winter, rafting in summer. The sportsmen will choose their season. The high tourist seasons are in winter (summer for us) and in summer (winter for us). You must then have planned your stay because the site is very touristy. Prices drop in the low season, from April to October, but the number of active tourist providers is also high and the weather is rarely good. It is therefore preferable to stay in Queenstown from January to March, or in November and December. At the beginning of July, the While Winter Festival lifts the mood in the resort with live music and festive entertainment for 4 days.
Weather at the moment
Weather all year round
Queenstown has a temperate oceanic climate with average temperatures over the year of 13°C, in July of 6°C and in February of 20°C. Rainfall is significant (1 480 mm over the year) with a minimum of 80 mm in June and a maximum of 156 mm in January. Snow is abundant on the hills in January.
Budget
The biggest part of your budget for a stay in Queenstown concerns the airfare and car rental. You cannot stay less than 15 days in this country because of the price of the plane ticket, so you will combine your arrival in Auckland or Wellington with the discovery of this city, and then a short trip to visit the South Island before your stay in Queenstown. You will then add your stay and your activities in a rather expensive resort. The dollars will fly!
Procedures
To travel to New Zealand, and therefore to Queenstown, for a stay of up to three months, you must have a passport valid for three months after your return, an international credit card, a round-trip plane ticket, and a financial guarantee of at least NZD 1,000 (about €570) for the duration of your stay. No visa is required for French nationals, but each traveler to Queenstown must have an authorization that can be obtained online (€49.95) including the electronic travel authorization (New Zealand Electronic Travel Authority or NZeTA) and the tourist and environmental protection tax. Your French driver's license is valid in New Zealand. You will, of course, have to drive on the left side of the road.
Health
It is recommended that you get an up-to-date diphtheria-tetanus-polio vaccination (DTP), as well as a rubella-mumps-measles (MMR) vaccination for children. No particular health concerns if you live in Queenstonw. However, the usual hygiene and precautions of a traveler must be respected. In addition, if you come for intense sports activities, a repatriation insurance is recommended
How to go to Queenstown? Our advice & tips
Organised trips

Going alone

Moving around
Tolkien's Footprints and Sports Tours are the two types of tours organized by travel agencies for Queenstown. The formula of the organized trip is well adapted to this destination. So you don't have to worry about anything. You can choose between tailor-made trips - which are quite expensive - or sports groups. The atmosphere is generally "young, dynamic and sporty", rather preppy.
Discover our selection of travel agencies for this destination
Usually you arrive in Auckland and take a domestic flight to Queenstown. There are also flights to Queenstown from Brisbane, Sydney and Melbourne. When you arrive in Auckland, during the high tourist season, it is best to have booked your accommodation. Renting a car is essential if you want to make the most of your time, your visits and your activities. You will find at the tourist office the contacts of the service providers to book your sports outings and the addresses of the best spots.
It is best to arrive by plane. The airport is a 25-minute bus ride and a 15-minute cab ride from the city center. You can rent a car (left hand drive) to explore the area. Otherwise, buses and shuttles, or even a helicopter, will take you to the ski resorts.
Prepare for your trip Queenstown
Transportation
Car Rental
Taxi
Tailor-made trip
Accommodation & stays
Find a hotel
Holiday rental
Services / On site
Book a table
Activities & visits
Queenstown travel inspiration
Pictures Queenstown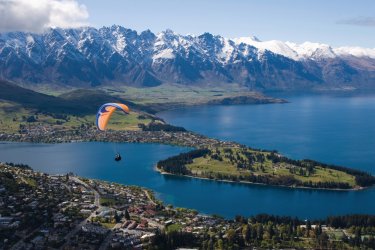 Discover Queenstown
Practical information
Other destinations nearby Queenstown