It's not the country's capital, but it is New Zealand's largest and most populous city, open and cosmopolitan, as well as New Zealand's main transit center. But it would be a shame not to stay there. In the north of the North Island, nestled between two beautiful bays, each with its own harbor, Auckland is nicely nicknamed the City of Sails. It is necessary to go up from Queen Street, to the top of the emblematic Sky Toweryou have to climb from Queen Street to the top of the iconic Queen Street Building, the tallest building in the southern hemisphere at 328 meters, to enjoy a bird's eye view of Viaduct Harbour with its luxury yachts and lanes of bars and cafes. At the foot of the extinct volcano, you can visit the Auckland Estate, the city's oldest park, which is home to the Wintergardens, beautiful landscaped gardens. The beach at Mission Bay, close to the city center, is a popular spot for walkers and runners along the sea. In fact, wherever you are in Auckland, you'll never be far from the sea: the city stretches from the Pacific Ocean to the Tasman Sea. Surfers particularly appreciate the unspoiled beaches of the Hauraki Gulf. You can also choose to hike in the bush, or discover a dozen small wild islands off the coast. What else is there? Plenty of sunshine, Polynesian culture in the background, a taste for food and good wine. Seductive, isn't it?
Suggested addresses Auckland
When to go to Auckland?
The peak tourist season in Auckland is between mid-December and the end of January. Hotels are often fully booked and tourist areas are crowded. But Auckland is somewhat spared as tourists only stay one or two nights before leaving to explore the country. The high tourist season in Auckland is between mid-December and the end of January. However, the best periods to visit are the pivotal months of February-March and October-November, when there is less rainfall than in the other months, when temperatures are pleasant and when there are no school vacations, which means that there are fewer visitors to the sites of interest.
Weather at the moment
Weather all year round
The country has a temperate climate with fairly heavy rainfall, but also many hours of sunshine. Auckland, in the extreme north, has a subtropical summer. The seasons are reversed compared to Europe. From November to January it is summer, in July and August it is winter. January and February are the warmest months, July the coldest. In summer, the average maximum temperature is between 20 and 30°C, in winter between 10 and 15°C
Jan.

16°C
23°C
Feb.

16°C
23°C
Mar.

15°C
22°C
Apr.

13°C
19°C
May

11°C
17°C
June

9°C
14°C
July

8°C
13°C
Aug.

8°C
14°C
Sept.

9°C
16°C
Oct.

11°C
17°C
Nov.

12°C
19°C
Dec.

14°C
21°C
Budget
The currency is the New Zealand Dollar. Auckland is an attractive city that remains affordable. Of course, you have to count with a plane ticket to the other side of the world, so at least 2 weeks of stay. But on the spot you can manage to get by at a low price. You can stay with two people for only 150 € (in a dormitory) € per week. With 300 € you have a decent private room. For luxury, it's more expensive! Many small restaurants are not expensive at all
Procedures
To travel to New Zealand, therefore to Auckland, for a stay of up to three months you must have a passport valid for three months after your return, an international credit card, a return air ticket, and a financial guarantee of at least NZD 1,000 (about € 570) for the duration of your stay. No visa is required for French citizens, but each traveler to Auckland, as for the rest of the country, must have an authorization that can be obtained online (€49.95) including the electronic travel authorization (New Zealand Electronic Travel Authority or NZeTA) and the tourist and environmental protection tax.
Health
It is recommended that you get an up-to-date diphtheria-tetanus-polio vaccination (DTP), as well as a measles-mumps-rubella (MMR) vaccination for children. There are no particular health concerns if you live in Auckland and the city has a modern medical and hospital infrastructure. However, the usual hygiene and precautionary measures for travelers must be respected.
How to go to Auckland? Our advice & tips
Organised trips

Going alone

Moving around
There are many agencies offering tours in New Zealand. These often include the discovery of Auckland, at least for a northern tour. A stay in Auckland can be completed with hikes in protected natural sites, whale and dolphin watching, a visit to a wild island in the Gulf of Hauraki. You can also discover the skyscraper district, spend a day at the beach, visit museums and trendy areas
Discover our selection of travel agencies for this destination
It is easy to take a direct flight to Auckland and to organize your stay in the city by yourself by booking on the Internet sites from Europe or by arriving in the city. Getting around the city is easy and even though it is a large city, you will quickly find your way around thanks to the coastline, the volcano and buildings such as the Sky Tower, an unmissable landmark. Public transportation is efficient and easy to use.
The center of Auckland, unlike Wellington which is very steep, is easily visited on foot. The city bus network operates from 6:30 am to 7:30 pm. There is also a night service from 1am to 3am. The lines serve the city and the outskirts of Auckland. The City Circuit, a shuttle that serves the historic center and Albert Park, is widely used. The train serves the suburbs within a 30 km radius. You can also take one of the many cabs in the city
Prepare for your trip Auckland
Transportation
Car Rental
Taxi
Tailor-made trip
Accommodation & stays
Find a hotel
Holiday rental
Services / On site
Book a table
Activities & visits
Auckland travel inspiration
Pictures Auckland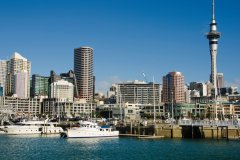 Discover Auckland
Practical information