Sometimes adored, sometimes criticized, Tel Aviv, the white city, has no use for what to say. Oriental, cosmopolitan, pious, secular, full of sweetness, insolent and messy, she only aspires to live with all her drunkenness, accumulating paradoxes without cluttering herself with complexes. It must be said that its assets are numerous, starting with its almost permanent sunshine, the 14 km of beaches that surround it and allow a soothing Mediterranean wind to penetrate the interior of the city or Hayarkon Park and its 500 hectares of greenery. Although attached to a country at war, the destination cultivates a lightness and a deep sense of tolerance, a carefree attitude, which pushes its inhabitants to stroll, seduction and celebration, carried by a bubbling creative energy that never sleeps and which is found in art, fashion and cinema. The Tel Aviv tour guide will take the traveller from old Jaffa to the new port, from Neve Tzedek's bohemian to Sheinkin's frivolities, from Dizengoff's commercial ambitions to Florentine's artistic aspirations. As many atmospheres as there are neighbourhoods. But in the end, Tel Aviv owes its uniqueness above all to its inhabitants, who are joyful and disarmingly natural.
When to go to Tel Aviv?
When to go to Tel Aviv? The best time to visit Tel Aviv will depend on your interests, whether you want to participate in religious holidays, enjoy the beach, avoid crowds of summer visitors... In short, summer stretches between March and October, ideal for sunbathing and swimming between May and September. Be careful, July and August are very busy months, prices are rising, tourists (many of whom are French) are everywhere. It is better to avoid Jewish holiday periods, during which most shops are closed, public transport is more than limited and hotel prices are increased. In winter, the South is more pleasant than the rainy North, while in summer it may seem too hot. So when to go to Tel Aviv? All year round
Weather at the moment
Weather all year round
The weather in Tel Aviv is particularly pleasant thanks to its rather hot and humid climate. Spring and autumn are mild and often sunny, winter is quite bearable, with temperatures as low as 10°C in Tel Aviv. As for the summer - sometimes very hot - it stretches "Indian-style" until October or even November.
Budget
In Israel, the currency unit is the new shekel (abbreviation: NIS, ISO ILS code). The cost of living is quite high in Israel, especially in Tel Aviv (and Jerusalem). However, it is still possible for the low-budget traveller to get by at a lower cost than in European countries or North America. It all depends, of course, on the lifestyle you intend to lead there. Nevertheless, count at least 30 € per day, tightening your belt.
Procedures
For Tel Aviv and Israel in general, European Union nationals, like Canadians and Swiss, only need a passport that is valid for at least six months after the date of entry. A visa is required for a stay of more than three months. An entry permit will be given to you at the time of customs control. Be careful not to lose this paper, it will be asked when you leave Tel Aviv
Health
No vaccinations are necessary or even mandatory to go on holiday in Tel Aviv. If by any chance you have a health concern on the spot, the health facilities are of a level comparable - and sometimes even higher - than those we encounter in Europe. In addition, water is drinkable in Tel Aviv.
How to go to Tel Aviv? Our advice & tips
Organised trips

Going alone

Moving around
Tour operators specialising in the region offer you all-inclusive stays, whether for a family holiday, a honeymoon, a coach tour, but also tailor-made trips or group trips and why not a tour in Israel. Packs including flight and hotel are often quite interesting. It all depends on what you're looking for, after all.
The price of a return flight from France to Tel Aviv fluctuates according to the seasons and the Jewish holiday calendar. With low cost airlines, you can find a direct flight from 150 €. But the price can reach €1,000 during July and August. Avoid last-minute stays! The price depends on the period, the company borrowed, but above all, the reservation time. For a cheap flight ticket, it is essential to do it well in advance!
Israel's main airport is Ben Gurion Airport, near Tel Aviv. The easiest and fastest way to get to the city centre is by train. Attention, due to the Sabbath, there is no train between 4pm on Friday and 10pm on Saturday. On the spot, sherut (collective taxis) represent a means of transport not to be neglected: their prices are almost identical to those of buses, they are more comfortable. You can also rent bicycles
Prepare for your trip Tel Aviv
Transportation
Book a ferry

Car Rental

Taxi
Accommodations
Find a hotel

Holiday rental
Services / On site
Book a table

Activities & visits
Tel Aviv travel inspiration
Pictures Tel Aviv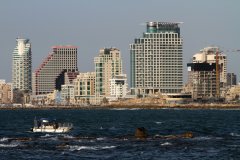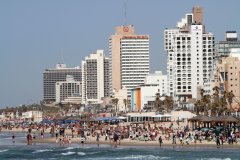 Discover Tel Aviv
Practical information