Famous for the famous spring break, a week when North American students arrive in their thousands for a vacation of excess at a lower cost, the seaside resort of Cancún, the capital of the federal state of Quintana Roo, located at the eastern tip of the peninsula of the same name, is nevertheless a splendid place. Created in the late 1970s by the Mexican government to relieve the congestion in Acapulco, there was then only a simple village with a hundred fishermen. Today, there are 600,000 permanent residents and nearly 7 million visitors per year! It must be said that the Caribbean Sea, with its turquoise waters, caresses 20 kilometres of paradisiacal beaches of white and fine sand that make up the hotel area of Cancún, separated from the land by an emerald green lagoon. In addition to the luxurious accommodation, refined tables, the multitude of possible sporting activities and the crazy nights of the resort, the Cancún tourist guide explores the cultural dimensions of the region, including the new Mayan Museum in Cancún, but also the surroundings of this corner of paradise: the island of Cozumel, famous for diving; the playa del Carmen, another festive and lively seaside resort; Tulum and its famous pre-Columbian site, a relaxing and eco-chic destination; but also the Bacalar lagoon, with its 7 blue colours, where all the worries of the world seem so far away. If this area of Mexico is one of the most touristy in the country, it is also one of the most magnificent!
Welcome to Mexico City!
Suggested addresses Cancún
When to go to Cancún?
When to go to Cancun? The best time to go to Cancun is undoubtedly between November and February. At that time, the weather was hot and sunny, but temperatures remained tolerable for travelling and visiting the Mayan temples, while during the hottest months of the year - from March to June - people sweated in large drops everywhere, which quickly became exhausting. Of course, you can also visit the peninsula during the summer, but be prepared for a few showers and perhaps to experience the adventure of a cyclone! It is also worth recalling that in March the American spring break takes place. At that time, the Caribbean beaches, mainly Cancún and Playa del Carmen, were invaded by raging North American students. This may be a good time to visit the peninsula if you want to celebrate, but if you are looking for peace and quiet, avoid it! When to go to Cancun? In winter, for a tropical Christmas!
Weather at the moment
Weather all year round
Cancún and the Yucatán peninsula have a warm sub-humid climate. The average annual temperature in Cancun is 26°C and rarely drops below 16°C. This is the level of precipitation that marks the passage of the seasons: we can distinguish a dry season, which extends from November to May, and a rainy season, which extends from June to October. During the second, Cancun's weather is characterized by heavy rains, sometimes heralding a tropical cyclone
Budget
Mexico's currency is the peso. Although a little more expensive than Guatemala and Honduras, a stay in Mexico remains relatively cheap despite inflation. However, since Cancun is a seaside resort that North Americans are fond of, hotel rates tend to be excessive, as are those of restaurants in the hotel area. To save money, we prefer Downtown Cancún, which is more popular. By venturing outside the tourist area, prices are softened.
Procedures
French nationals do not need a visa to travel to Cancun. The only formality to enter Mexican territory is to fill out the Mexican State Tourist Card (Forma Migratoria Turista/FM-T), provided upon arrival at the airport. It gives you the right to stay on the territory for a maximum of 90 days. Do not lose it because it will be asked of you at the time of departure. One of the tricks for staying longer as a tourist is to leave the country for a neighbouring country and re-enter it. You will then be given a new tourist card valid for 90 days. Since Cancun, it is obviously easier to go to Guatemala or Belize than to the United States to renew your tourist card. However, if you are more tempted to travel to the United States, you will need an electronic travel authorization (ESTA) to enter the United States, unless you are crossing the border by land.
Health
No vaccination is required to travel to Cancun, but it is recommended to be vaccinated against diphtheria, tetanus, poliomyelitis and hepatitis A. Those planning a more adventurous and remote stay will also plan to protect themselves against hepatitis B, typhoid and rabies as a preventive measure. Cholera and dengue fever are always a risk. Vaccination against yellow fever is not mandatory, except for travellers from an exposed area in Africa or Latin America. The risk of malaria is very low but it exists from April to October. Concerning drinking water in Cancún, we prefer to drink bottled water
How to go to Cancún? Our advice & tips
Organised trips

Going alone

Moving around
There are many travel agencies offering all-inclusive hotel stays and all-inclusive packages in Cancún, all this will ultimately depend on your budget. If you wish to pass through Cancún and then discover the Yucatán peninsula, some specialists rent their services by offering several tours developed according to various themes (Mayan civilization, diving, archaeological sites, etc.) but are also able to organize a trip tailored to your expectations.
Discover our selection of travel agencies for this destination
To get to Cancún and the Yucatán peninsula on your own without leaving an arm behind, you simply have to be organized and proactive. Flights from Europe vary between 400 and 1 200 € depending on the period and time of booking. In order to take advantage of the best offers in terms of accommodation, the same principle applies: book well in advance!
Travelling in the peninsula can be done by bus, but the ideal is to rent a car. This saves a lot of time and makes it possible not to plan your program according to bus schedules! A large part of the region can be visited in about a week. It is possible to rent a car in Merida and drop it off in Cancún (or vice versa) with the appropriate rental company. Be aware that booking your car on the Internet is often a more economical option!
Prepare for your trip Cancún
Transportation
Book a ferry

Car Rental

Taxi
Accommodations
Find a hotel

Holiday rental
Services / On site
Book a table

Activities & visits
Cancún travel inspiration
Pictures Cancún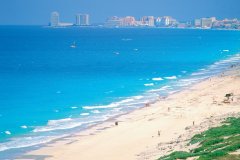 Discover Cancún
Practical information