Capital of the Loire department, in the Auvergne-Rhône-Alpes region, Saint-Étienne, "Sainté" for regular visitors, is a student destination and stamped by UNESCO "creative city for design". Former industrial capital of Europe (19th century), the city was the cradle, in the last century, of many innovations that changed the world. The first railway line was laid and one of the first trams was installed. Manufrance and its catalogue, a pioneer in mail order sales, was created there. The water wheel, an energy source on an industrial scale, was invented in Saint-Étienne... It is a heritage that still testifies to this today through the city's neighbourhoods. But today is the era of design in Saint-Étienne. You should see the Hôtel des ingénieurs and the fresco of La pince à dents qui fait rire, the Musée d'art moderne et contemporain, the Mine Muséum and the Musée d'Art moderne, the Cité du design and the Manufacture creative district. It is necessary to be on the lookout for contemporary works of art that adorn the city. Look for Philippe Million's multi-coloured Tree, Assan Smati's Blue Horses. Stock up on local products at Halles Mazerat. The renovated Place de l'Hôtel de Ville gives a new character to the city centre. A getaway from Mont Pilat, nearby, is a must during a stay in Stephan. In the meantime, walk through one of the city's green spaces, sit on the terrace of a café, take the time to choose a good restaurant. Your favorite tour guide will help you do this.
What to visit Saint-Etienne?
When to go to Saint-Etienne?
When to go to Saint-Étienne? A student, commercial, cultural and dynamic city, Saint-Étienne can be visited all year round. Choose spring and autumn, as summer can be hot and winter very cold. In addition, there are many tourists in summer and prices tend to rise in both accommodation and restaurants. However, the end-of-year celebrations offer magnificent decorations and magical entertainment. All year round, cultural events are available: Winter Jazzeries in January, Burlesque Arts in February, Lyrics and Music, Book Festival in October and Sainte-Barbe in December. As for the Saint-Étienne International Design Biennale, it takes place in odd years, during one month in April/May
Weather at the moment
Weather all year round
At the foot of the Pilat massif, at ubac, and at an altitude of 530 m to 700 m, Saint-Étienne has a semi-continental climate under mountain influence. In winter, snowfall can be heavy. The Mediterranean influence is punctually reflected in episodes of the Cévennes type and sunshine that is often higher than the national average. The average temperature ranges from 2/8°C in January/February to 15/26°C in July/August.
Prepare for your trip Saint-Etienne
Transportation
Car Rental
Taxi
Tailor-made trip
Accommodation & stays
Find a hotel
Holiday rental
Services / On site
Book a table
Activities & visits
Saint-Etienne travel inspiration
Pictures Saint-Etienne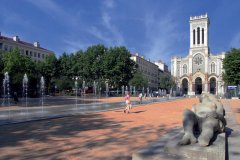 Discover Saint-Etienne
Practical information
When to travel?
When to go to Saint-Étienne? A student, commercial, cultural and dynamic city, Saint-Étienne can be visited all yea...
Read more about it
Weather forecast
At the foot of the Pilat massif, at ubac, and at an altitude of 530 m to 700 m, Saint-Étienne has a semi-continental...
Read more about it