Surrounded by the Chartreuse, Vercors and Belledonne massifs, Grenoble is nearly twenty-one centuries old. And to say that it's pleasant to walk around (in the city as well as in the surroundings) is an understatement: Grenoble is the largest ecological city in France. In the old town, one walks through the lively Place Grenette and Place Saint-André, as well as the countless streets with their superb mansions that criss-cross the district. Of particular interest are the former Parliament Palace, the City Garden, with the Treasure Tower, and l'ancien hôtel de Lesdiguièresthe Collegiate Church of Saint Andrew, the "Bishopric-Cathedral" group (12th-13th centuries), which includes Notre Dame Cathedral, the Church of Saint Hugues, the remains of the Baptistery and the Episcopal Palace. Finally, a little further away, south of the old town, take a look at the Place de Verdun and the prefecture (19th century). On the other side of the Isère river, the Saint-Laurent district is essentially a tourist area. There are the St. Lawrence Gate and the Gate of France, which has become a monument to the city's war dead, the old St. Lawrence Church (13th century), and the current Archaeological Museum. Go to the Bastille fort, on foot or by cable car. Of course, this presentation is only brief, there is so much to discover in this beautiful city (it also has a lot of street art, as shown by its festival), where Stendhal comes from, that a tourist guide about Grenoble will not fail to make you discover.
When to go to Grenoble?
When to go to Grenoble? All year round, the capital of the Dauphiné can be visited and is not lacking in charm. Winter, although harsh, will allow you to combine discovery of the city and skiing in its surroundings. But if winter sports are not your cup of tea, choose the shoulder seasons (spring and autumn): the weather is pleasant. Indeed, it is often very hot in Grenoble during July and August.
However, many events punctuate Grenoble's life all year round, and these festivities can also serve as a pretext for a stay in the city: Street Art Festival, Festival de l'Humour..
Weather at the moment
Weather all year round
Due to Grenoble's position, the city is subject to different climates. Indeed, although the altitude is rather low (about 200 m), the city is located in the heart of the Alps and enjoys an alpine climate. However, Atlantic, continental and Mediterranean influences are also felt here. There is heavy rainfall in spring and autumn, and more sunshine in Toulouse. Temperatures, often negative in winter, exceed 28-29°C in summer
Prepare for your trip Grenoble
Transportation
Book a ferry

Car Rental

Taxi
Accommodations
Find a hotel

Holiday rental
Services / On site
Book a table

Activities & visits
Pictures Grenoble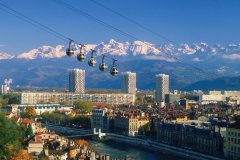 Discover Grenoble
Practical information
When to travel?
When to go to Grenoble? All year round, the capital of the Dauphiné can be visited and is not lacking in charm. Wint...
Read more about it
Weather forecast
Due to Grenoble's position, the city is subject to different climates. Indeed, although the altitude is rather low (a...
Read more about it