Cannes: a name that evokes cinema and glitter! And yet, it is much more than that. As you will read in a tourist guide to Cannes, the city was discovered by the English nobility when it was only a village long before its famous festival. Film stars have made it a myth, major brands have set up their windows there and visitors perceive it as a privileged stopover. Cannes, a dream destination, continues to reveal its secrets today. Here, in an incomparable atmosphere, the palaces of the Croisette, the stones steeped in the history of the Suquet district, the authenticity of the old fishing port, the luminous beauty of the Lérins islands, the sun-drenched beaches and the effervescence of the major events scheduled at the famous Palais des Festivals et des Congrès. An international city of stars and glitter, Cannes also reveals a precious historical, natural and artistic heritage. The heart of its history pulsates in the pedestrian and sloping alleys of Le Suquet, a district suspended above the old port, which reveals a Provençal soul. The shopping street Meynadier, pedestrian from start to finish, and the : Forville market preserve a village atmosphere; as for the islands of Lérins, a green lung steeped in history, they face the glittering Croisette where the great luxury brands and renowned palaces meet. All the faces of Cannes are open to the curious visitor who wants to touch his heart beyond the sunlights.
The must-see places in Cannes
When to go to Cannes?
Do you want to go to Cannes? First question: is it for the festival or not? If this is the case, it takes place at the end of May-early June. The city is undergoing a radical metamorphosis, the atmosphere is extraordinary, and the accommodation has been taken over
In addition to the festival, spring and autumn are certainly the best seasons. The prices are lower (except during the festival, therefore) than in summer, and the climate is very pleasant to walk and visit the city without suffering too much from the heat waves of summer.
Weather at the moment
Weather all year round
The climate that "prevails" in Cannes is Mediterranean. Winters are mild and sunny, with temperatures averaging 15°C and moderate rainfall, sometimes with snow in the mountains. But in summer, the heat ñ perhaps ñ can be ñ in Cannes with temperatures up to 35 °C on the coast ñ in August at the heart of the high tourist season. In spring, nature is flowery and the weather is pleasant. In autumn, the weather is mild and the landscapes colourful.
Prepare for your trip Cannes
Transportation
Book a ferry

Car Rental

Taxi
Accommodations
Find a hotel

Holiday rental

Airbnb rental
Services / On site
Book a table

Activities & visits
Pictures Cannes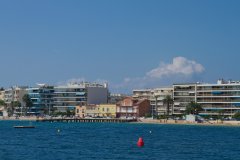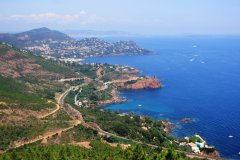 Discover Cannes
Practical information
When to travel?
Do you want to go to Cannes? First question: is it for the festival or not? If this is the case, it takes place at th...
Read more about it
Weather forecast
The climate that "prevails" in Cannes is Mediterranean. Winters are mild and sunny, with temperatures averaging 15°C...
Read more about it