Poitiers looks like a village disproportionately stretched around the Clain. A perpetual movement animates this university city of art and history, bathed by the Clain and Boivre rivers, where architectural jewels of the medieval era and monuments of contemporary architecture meet, and which opens its doors to you through its civil and religious buildings, its narrow streets with half-timbered facades. Everything here deserves to be admired: the Saint-Hilaire church : the 11th century Grand, the 5th century Saint-Jean baptistery, the 11th century Notre-Dame la Grande church and its famous sculpted facade, the 12th century Saint-Pierre cathedral and its newly discovered 13th century wall paintings, the 19th century Town Hall, the palace of the Counts of Poitou and Dukes of Aquitaine (now the courthouse), the theatre and the contemporary auditorium. Take the time to go to the foot of Notre-Dame des Dunes, a gigantic statue overlooking the city on the right bank of the Clain and admire the panorama at the heart of French history! Nowadays, Poitiers unleashes a delicious icy charm, so rare that it would be almost a thumbnail throwback to the urban norm of generalized effervescence. And if the city chokes you, move away a little: the famous Futuroscope is only a few miles from Poitiers and the surrounding nature offers many activities related to the river (canoeing, fishing...).
When to go to Poitiers?
When to go to Poitiers? July is the hottest month and January is the coldest month. Rain is frequent but you can visit the city's architectural and historical heritage all year round, and the famous Futuroscope a few kilometres from the city. This amusement park, like many, is even more enjoyable outside the summer, the peak tourist season. The Christmas market with its small chalets on the main square of the town hall and the illuminations of Poitiers add to the magic of the end of year celebrations. The gourmet animations too.
Weather at the moment
Weather all year round
Due to its proximity to the Atlantic Ocean, Poitiers enjoys an oceanically influenced climate, generally cool in summer and mild in winter, with an annual average temperature of 12°C. The cumulative rainfall ranges from 600 to 850 mm in the north or south of the department. On the other hand, the city only has an average of 80 days of sunshine per year.
Prepare for your trip Poitiers
Transportation
Car Rental
Taxi
Tailor-made trip
Accommodation & stays
Find a hotel
Holiday rental
Services / On site
Book a table
Activities & visits
Poitiers travel inspiration
Pictures Poitiers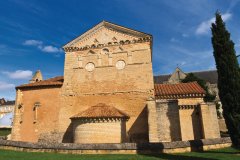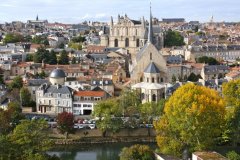 Discover Poitiers
Practical information
When to travel?
When to go to Poitiers? July is the hottest month and January is the coldest month. Rain is frequent but you can visi...
Read more about it
Weather forecast
Due to its proximity to the Atlantic Ocean, Poitiers enjoys an oceanically influenced climate, generally cool in summ...
Read more about it