Maritime motorcycle trip along the Basque coast
With the warm weather coming back, people are starting to feel the urge to take to the sea. For motorcycle road trip enthusiasts, and especially for those who like to ride close to the ocean, a motorcycle trip along the Basque coast is an ideal route. You can stop in the emblematic towns of the Basque Country as well as in villages with authentic architecture. Between two journeys, you can discover a gastronomy rich in flavours, a beautiful heritage, you can play pelota or surf, and above all, you can take the time to stop on some of the most beautiful beaches for moments of idleness in the sun and swimming. It is possible to rent a motorbike from the Yamaha Rent Anglet agency, which offers motorbikes perfectly suited to long road trips, as well as scooters. Between the sea and the mountains, the Basque coast by motorbike is a route full of pleasant surprises. Here is an itinerary to follow that will take you to the must-sees, and to some unsuspected treasures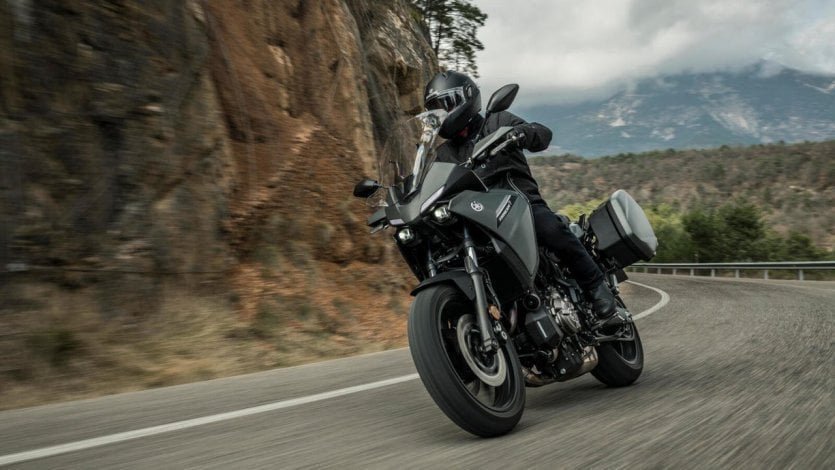 From Anglet, the journey begins in the best possible conditions, in a comfortable and safe vehicle. This is how we set off for the first stage: Biarritz. You need to spend two or three days in the charming seaside town to enjoy all it has to offer. On the first day, we visit the Biarritz aquarium to marvel at the hundred or so species of fauna and flora of the Bay of Biscay, the shark cave, the seals in their tank as well as the collections related to fishing techniques in the Basque Country. We then continue with a walk around the fishermen's port, a charming place with its small houses and old boats. An afternoon at the beach can be spent on Marbella beach, the surfers' spot, or on Milady beach, where a multitude of activities are offered. In the evening, what could be more romantic than the sun setting on the Atalaye plateau, at the Virgin Rock or near the lighthouse before a night of rest? To put down your suitcases, the Maison de la Côte is a charming 1930s villa located 200 m from the Miramar beach. Carefully decorated, with a kitchenette, a balcony with an unobstructed view and a sauna, everything is there for a peaceful stay. For meals, the Arena Biarritz offers a beautiful local cuisine with a view of the sea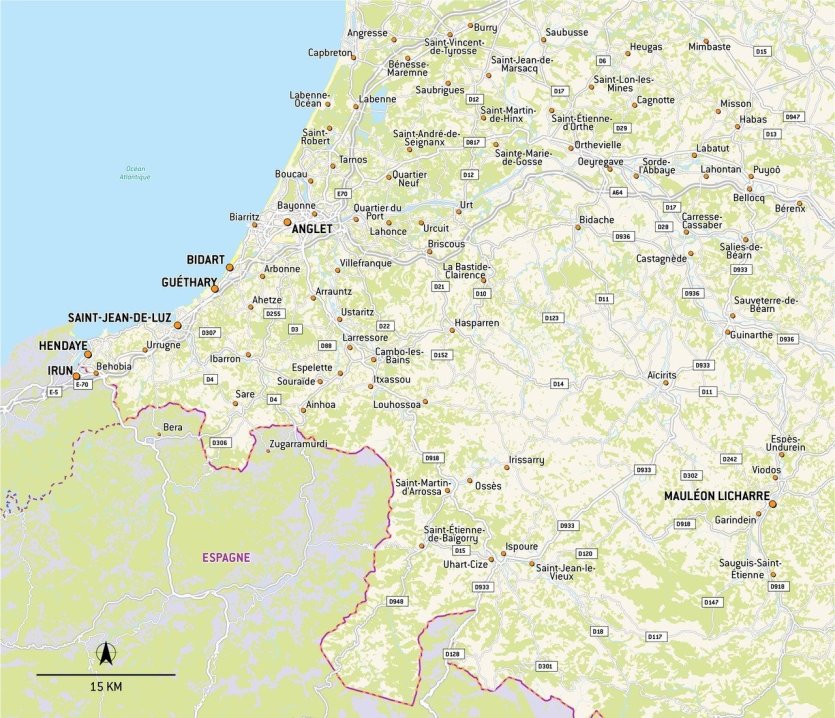 The next day, those who wish to ride for a long time can treat themselves to a day in the pure Basque tradition. The journey starts early in the morning by entering the land to reach Mauléon Licharre for a visit to the workshop-museum of Don Quichose. This factory makes espadrilles in the purest tradition. A place where manufacturers share their know-how and passion and where it is difficult to leave without a pair of trendy espadrilles, in various colours and patterns. Later in the day, back in Biarritz, a visit to the Jean Vier shop is a must, this time to discover the specialist in Basque fabric and to treat yourself to a model of bath linen or decoration. After driving and walking, it is time to park the bike on a car park near the Grande Plage to enjoy a swim in a chic and always very lively setting. Before returning to the guesthouse, a stop for dinner at Léonie's is an opportunity to enjoy quality and seasonal products in a bistronomic atmosphere. The scallops and the braised veal chuck are accompanied by a good local wine. The day ends in the most pleasant way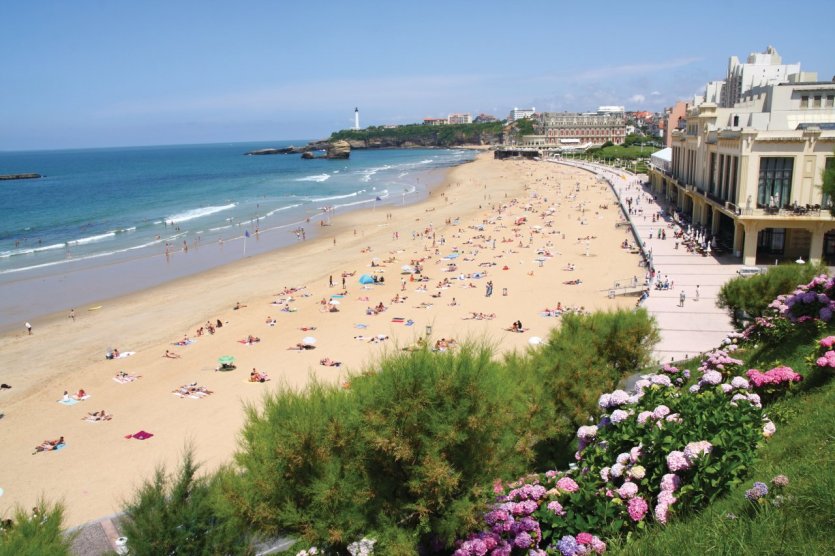 The road along the Basque coast and its breathtaking panoramas continues towards Bidart. This small typical village is the perfect destination to enjoy a rich heritage and a unique natural landscape. The narrow streets immediately make you want to stroll around and observe the red and white houses, as one so often has the opportunity to marvel at them in the Basque Country. The town hall, the Bassilour mill and the chapels are all sights to behold. From the chapel of Sainte-Madeleine, you can enjoy a panoramic view of the town, the mountains, the cliffs, the beaches and the ocean. After having eaten some tapas and Iberico ham in the contemporary brasserie of the Hôtel du Fronton, we leave this time to park the motorbike in the old whaling port of Guéthary. In this small village, people sing Basque, dance Basque, play pelota and the beaches, which have remained authentic, have a family atmosphere. The port of the town reveals about twenty colorful boats and "the terrace" is the place to be for a beautiful panorama of the ocean animated by the waves and surfers. You will feel so good here that you will gladly settle down in the guest house of Arguibel, whose beautiful rooms are composed of revisited antique furniture and works of art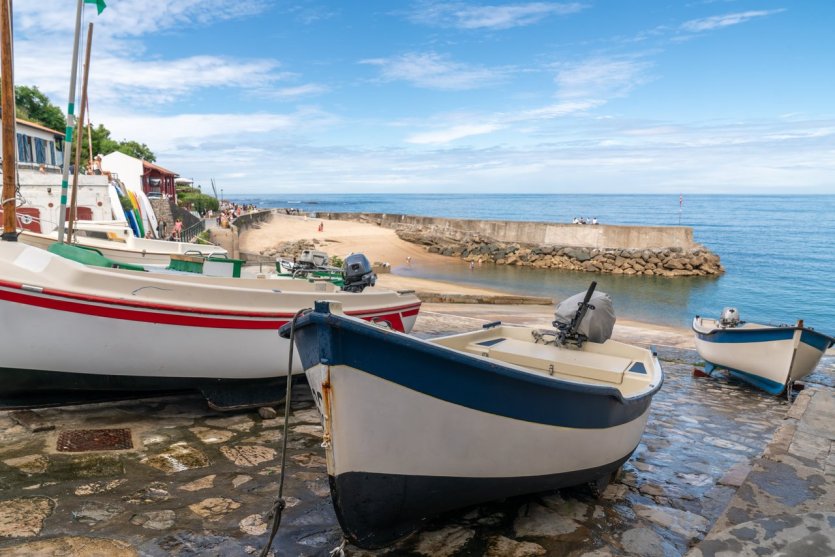 We then move a little closer to the Spanish border for a stopover in Saint-Jean-de-Luz, another key town in the Basque Country. The town has a car park with 3,000 spaces. Once parked, it's off to the main sites of interest. During your stay, you can wander around the city centre and its narrow streets. You can contemplate the architecture of the houses in detail, and you will come across the monuments that are the pride of the whole city. Let's mention the Saint-Jean-Baptiste church and its incredible interior, the Socoa fort, the Maison Louis XIV and the Maison de l'Infante. For a moment in the green, there is nothing like a tour of the botanical garden and its view over the bay. At the Pointe Sainte-Barbe, the walk reveals a panorama of houses, monuments, cliffs, mountains and the sea. The place is particularly sublime when the sea is raging! The Txoko Hotel is centrally located and there is free parking just 7 minutes walk away. This small hotel is perfect for getting to the main beach in no time. When hunger strikes, it is advisable to book a table at the restaurant Xaya la Cave Gourmande. This address, just a stone's throw from the port, offers a cosy atmosphere and dishes concocted with products from local farmers and market gardeners. The digestive stroll will of course take place on the port, which has retained all its charm of yesteryear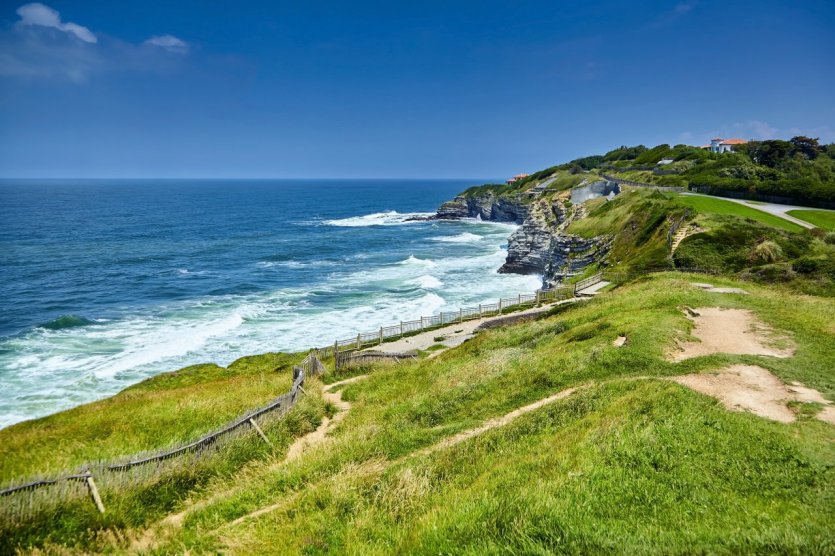 The last coastal town before Spain, Hendaye is the next destination for motorcycle travellers who decide to head down the coast. The town delights visitors with its beautiful heritage, such as the Abbadia castle-observatory. Built by the famous architect Viollet-le-Duc, this sublime neo-Gothic castle mixes neo-Gothic and Orientalist styles inside, with Ethiopian paintings, a Moorish smoking room, an astronomical observatory and a sublime library that immediately evokes Art Nouveau. Around the building, you can discover the Abbadia estate and its incredibly rich flora and fauna, while the Coastal Path offers breathtaking views of the coast. In the town, the large beach is the longest on the Basque coast, at 3 km. Here you can read a book in a deckchair, swim or surf for the more adventurous. And before leaving, don't forget to go to the end of the beach to photograph the Deux Jumeaux, the two limestone rocks that have broken away from the coast and are among the town's emblems. For a culinary break, the restaurant Le Chantier is located on the marina in the port of Hendaye and offers sea and land dishes. House cocktails, tapas, minced langoustines, roasted calf's sweetbreads or clam pasta, the choice is wide and the cuisine finely concocted. And to spend a few nights, the Bellevue Hotel is a great option. The house is a beautiful Basque building built in 1900, and some of the rooms offer a beautiful view of the bay and Mount Jaizkibel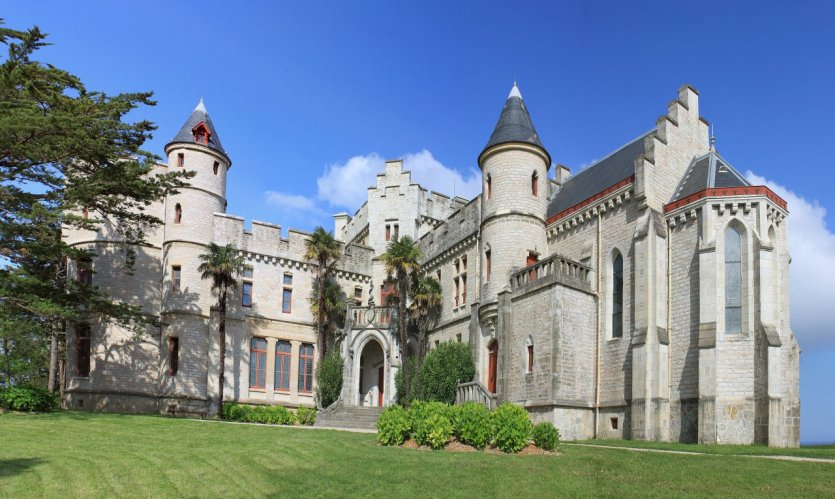 Before heading back to Anglet to return the motorcycle to the rental agency, two great experiences await motorcyclists eager for beautiful landscapes and cities of character. A detour to La Rhune mountain allows you to park the motorbike and take a ride on a small train created in 1924 that takes visitors to the top of this emblematic mountain of the Pyrenees. Travelling at low speed, there is time to marvel at the mountain scenery, the flora and fauna, which includes ponies and a multitude of birds, including griffon vultures. The next and final stage of the motorcycle trip takes place in Spain, in Irún. This city, which was the scene of epic battles, has nevertheless preserved a unique architectural heritage, such as the hermitage of Santa Elena, the palace of Urdania and the church of Juncal. For nature walks, the Plaiaundi ecological park is a wetland not to be missed under any circumstances, to be in contact with a biodiversity of great richness and which it is necessary to protect. Before leaving for Anglet, a night's rest is essential at the 3-star Trip Urdanibia hotel, which has modern rooms with balconies and a restaurant where you can enjoy pintxos.
For information and tips, motorbike travellers can stop at the tourist offices in Anglet, Bidart, Saint-Jean-de-Luz and Hendaye
For more information on motorcycle hire in Anglet, visit the Yamaha Rent website.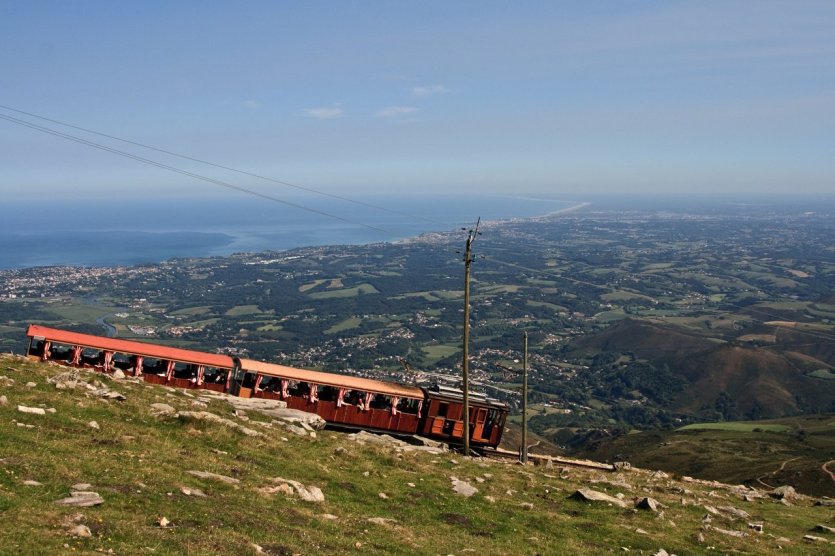 Learn more about Saint-Jean-De-Luz Donibanelohizune (64500)