Amiens
Travel Guide

Book a flight

Find an accommodation
The narrow streets of the Saint-Leu district with their shops and cafés, the canals with their floating markets, the famous hortillonnages, are so many attractions of this city bathed by the Somme on whose banks it is good to walk. Amiens is a destination with a great wealth of heritage whose emblem is the cathédrale gothique Notre-Damenearby belfry. You will not miss the visit of the Picardy Museum, a museum of art and antiquities, nor that of the House of Jules Verne, where the famous author lived, which can be visited from the winter garden to the attic, nor that of the zoo d'Amiens,rich fauna native to the 5 continents. But the must-see places in Amiens are much more numerous! One should also mention the Botanical Garden and the Hortillonnages Museum, not forgetting the Parc Saint-Pierre. Amiens is also a city of living art around the circus, street arts and contemporary art, a river city that sees boats stopping over, a gourmet city where you discover the flavours of Picardy string, rolled pancakes filled with ham and mushrooms, covered with cream and cheese, and real traditional macaroons, tender to the point. And don't forget that Saturday is the market of hortillonnages along the Quai Parmentier with market gardening, foie gras and salicorne. Your favourite travel guide will help you make the right choice.
Read more
Suggested addresses Amiens
When to go to Amiens?
When to go to Amiens? All year round, of course! The city is lively all year round and its jewels are visible every day. The high tourist season remains the summer when you will find it difficult to visit the emblematic places without the crowd and where you will have to book your accommodation well in advance of your stay. Prices tend to rise in the summer. You have cultural events and fairs (antique dealers' fair, gourmet fair, etc.) spread over all seasons. The Amiens Christmas market is famous. Running enthusiasts will do the Jules Verne in early June. In June also the festival of public space arts and the famous Marché sur l'eau, not to mention the chroma, sound & light show at the cathedral throughout the summer.
Weather at the moment
Weather all year round
The climate of Amiens is characteristic of the north of the country. It is an oceanic climate with relatively mild winters, cool summers, and well distributed rainfall throughout the year. The average temperature never drops below 0°C, even in the middle of winter, and rarely exceeds 25°C. Heat wave episodes are extremely rare. Overall, Amiens is very pleasant all year round.
Prepare for your trip Amiens
Transportation
Car Rental
Taxi
Tailor-made trip
Accommodation & stays
Find a hotel
Holiday rental
Services / On site
Book a table
Activities & visits
Amiens travel inspiration
Pictures Amiens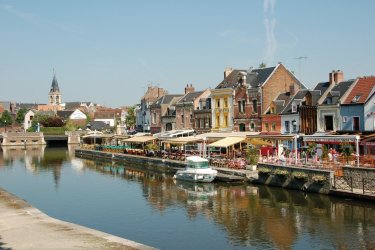 Discover Amiens
Practical information
When to travel?
When to go to Amiens? All year round, of course! The city is lively all year round and its jewels are visible every d...
Read more about it
Weather forecast
The climate of Amiens is characteristic of the north of the country. It is an oceanic climate with relatively mild wi...
Read more about it
Other destinations nearby Amiens