At the mouth of the Loire, the pearl of the Guérande Peninsula, open to the Atlantic Ocean, between the salt marshes and the regional natural park of Brière, La Baule is a charming seaside resort and an ideal base camp to discover the natural resources surrounding it, which create a magnificent setting. In La Baule, there is a mythical bay with its endless beach classified among the most beautiful in the world, an eclectic architecture that juggles with the atmosphere when walking, under the pines, along the magnificent seaside villas, Art Deco or Belle Époque, witnesses of a time when vacationing is in vogue, they embody the lifestyle of rich families, attracted by the benefits of sea bathing. La Baule has more than 4,000 seaside villas built since the end of the 19th century around the city centre... You must also walk through the Dryades park, spread over 25 hectares, which shelters more than 300 ornamental, deciduous or coniferous trees and nearly 20,000 plants. La Baule is an ideal holiday destination in Loire-Atlantique to recharge your batteries by playing golf (several courses), fishing on foot or jogging on the waterfront, by planning a thalasso and every day by enjoying the benefits of the ocean.
What to visit La Baule-Escoublac?
When to go to La Baule-Escoublac?
When to go to La Baule? The stay is pleasant all year round, but warmer in summer, of course. The water is then warmer even if some brave people swim all year round. You can enjoy the beach and bay all year round, walk, read, pick up shells or simply admire the superb landscapes. For thrill-seekers, kitesurfing and sand yachts will delight you on windy days! To admire the villas of La Baule, it is the same all year round. However, lovers of tranquility will prefer to avoid the high tourist season of the summer months. Enjoying the charm of La Baule at Christmas is a good option. However, in the off-seasons - November and January in particular - many institutions are closed.
Weather at the moment
Weather all year round
The Loire-Atlantique and La Baule in particular benefit from a temperate oceanic climate with mild temperatures all year round as well as a significant amount of bad weather, characteristic of western France. Winters rarely fall below zero, with an average of around 5°C, and summers remain just as mild, with an average of 18°C. Precipitation, on the other hand, is recorded up to 100 days per year.
Prepare for your trip La Baule-Escoublac
Transportation
Car Rental
Taxi
Tailor-made trip
Accommodation & stays
Find a hotel
Holiday rental
Services / On site
Book a table
Activities & visits
La Baule-Escoublac travel inspiration
Pictures La Baule-Escoublac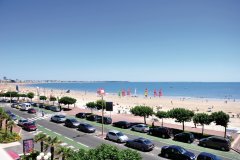 Discover La Baule-Escoublac
Practical information
When to travel?
When to go to La Baule? The stay is pleasant all year round, but warmer in summer, of course. The water is then warme...
Read more about it
Weather forecast
The Loire-Atlantique and La Baule in particular benefit from a temperate oceanic climate with mild temperatures all y...
Read more about it