UNESCO's creative city, it is the world capital of the arts of fire around porcelain, enamel and stained glass. Limoges is also a city of art and history. Bathed by the Vienne river, it boasts a peaceful yet dynamic provincial atmosphere. This city, which is more than 2,000 years old, is built around two historic centres: the Upper City, the former district of the Viscount Castle, and the City around Saint-Étienne Cathedral, a former episcopal stronghold. The Limoges-Bénédictins station, which began operating in 1929 and is an architectural symbol of the city, is an eclectic jewel that combines Art Nouveau, Art Deco and neoclassicism. You have to walk to the central halls, discover the church, the district of La Boucherie, see the church of Saint-Michel-des-lions, walk along the banks of the Vienne and stay at Place de La Motte. Limoges is a commercial and charming destination, but also a cultural one with many museums and heritage sites. We visit the Museum of the Resistance and the Museum of Fine Arts, the Pavillon de la Porcelaine museum, the famous Four des Casseaux museum, an old porcelain oven made entirely of brick and of course, the highlight of the show, the Bernardaud Foundation. Don't forget your tour guide.
Nearby, you can spend a day at Lake Vassivière, an artificial lake in the heart of the greenery appreciated by families, or discover the memorial village of Oradour-sur-Glane, where 642 villagers were massacred on June 10, 1944 by German soldiers. A poignant visit
When to go to Limoges?
Between the Périgord Limousin Regional Nature Park and the Millevaches Regional Nature Park in Limousin, Limoges, a city with a humid and green environment, does not have a very high tourist season or suffer from a very cold winter or a hot summer. When to go to Limoges? You can stay here almost all year round. The sunniest and driest season is, of course, the summer. The city offers you several events: the Spring Cavalcade, a 2 km long tour for 3 hours of entertainment with a parade of large floats around a different theme each year, musical and entertainment groups. In summer, the city is particularly lively and in September it is Toques et Porcelaine, a festive and sumptuous combination of Limoges porcelain and Limousin cuisine. At Christmas, finally, the city shines.
Weather at the moment
Weather all year round
150 km from the Atlantic Ocean, Limoges has a temperate oceanic climate with a slight mountain tendency, due to its proximity to the Massif Central. Snowfall is limited to one or two days of heavy rainfall per year, usually at the end of January. Summer gives way to a mild autumn, a true Indian summer. Limoges records about 65 days of rain per year and about 50 days of frost.
Prepare for your trip Limoges
Transportation
Car Rental
Taxi
Tailor-made trip
Accommodation & stays
Find a hotel
Holiday rental
Services / On site
Book a table
Activities & visits
Limoges travel inspiration
Pictures Limoges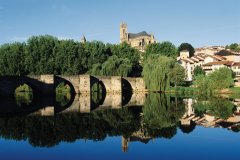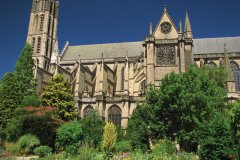 Discover Limoges
Practical information
When to travel?
Between the Périgord Limousin Regional Nature Park and the Millevaches Regional Nature Park in Limousin, Limoges, a...
Read more about it
Weather forecast
150 km from the Atlantic Ocean, Limoges has a temperate oceanic climate with a slight mountain tendency, due to its p...
Read more about it