Top 10 best spas in France
What better way to recharge your batteries and regain your vitality than to spend some time in a spa? Relaxation and well-being are the key words in these places that offer a wide range of treatments, in addition to the equipment available to relax. Swimming pool, hammam, sauna, salt cave, deck chair and herbal tea, you too dream of it? Well, you should know that many destinations in France are equipped with facilities that are happy to welcome locals and visitors looking for a moment out of time, in the city, by the sea or in the mountains. Here are the 10 best spas in France for a little getaway for lovers or friends.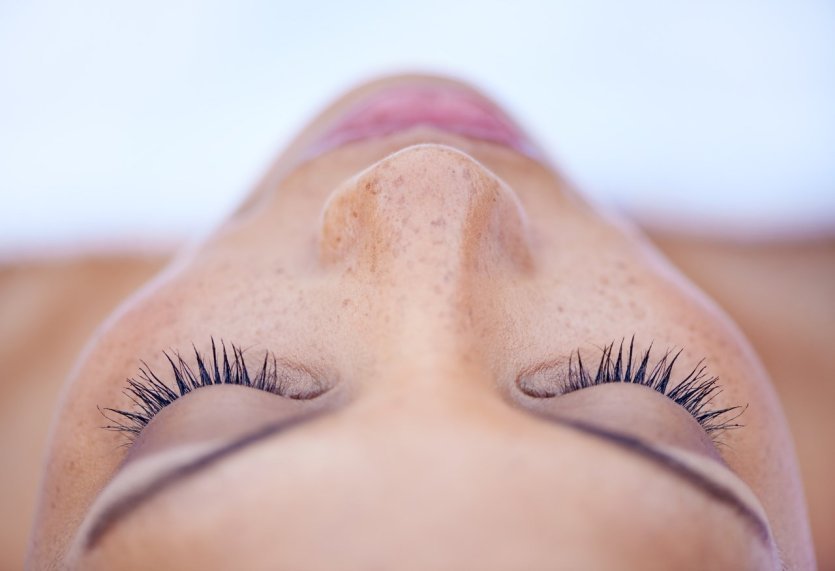 1- The Four Seasons Hotel Spa in Megève
Welcome to the heart of the Alps for a stay in the fresh air. In Megève, all the conditions are met to organize beautiful hikes in the mountains. The Four Seasons Hotel, located on the heights of Mont-d'Artois, is not only a superb establishment with cosy rooms, it also has a spa where holidaymakers love to come and pamper themselves. This superb space where white dominates has a magnificent indoor pool that opens onto the outside. Swimming against the current, balneotherapy, integrated music, all you have to do is let yourself go. The address also offers facials, massages and other detoxifying treatments for the body.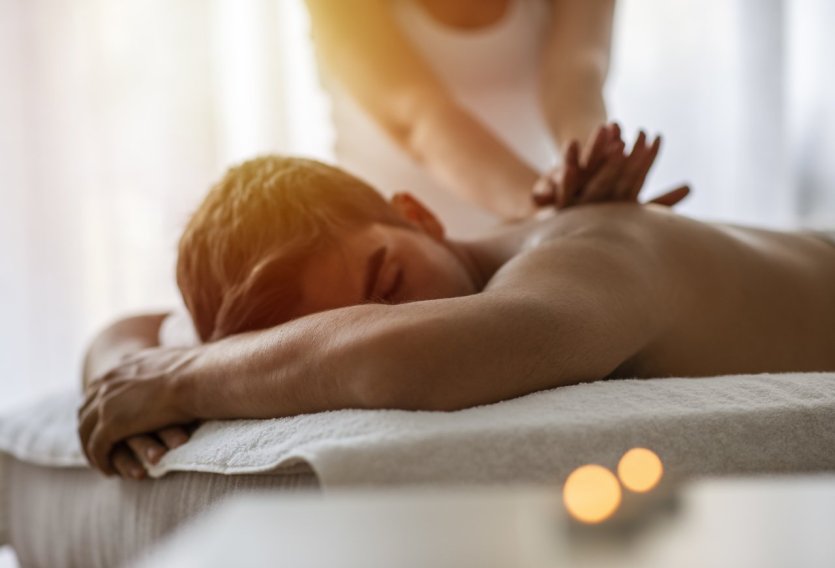 2- The spa at the Hôtel du Collectionneur in Paris
This spa has a surface of 400m2 dedicated to relaxation and pleasure. There is a relaxation area with a sauna, a hammam and a jet pool. Not to mention the 6 treatment rooms, one of which is a double room and a hydrojet room. Here, the idea is to make the public benefit from care techniques from all over the world. Each continent has its own methods for optimizing relaxation and fitness. The decoration is luxurious, in a place that maintains an intimate atmosphere. There is also a fitness room with cardio-training and weight training equipment.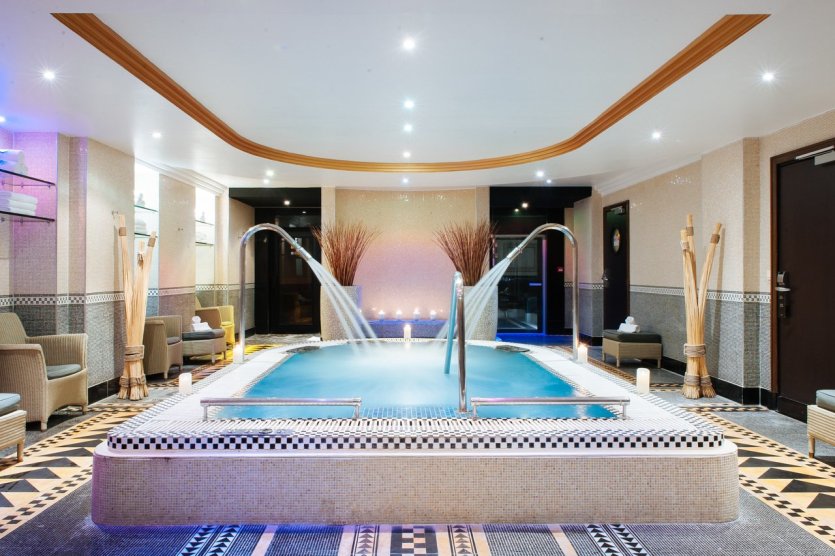 3- The spa at the Resort Barrière in Ribeauvillé
For those who plan a stay in Alsace to explore the vineyards and medieval villages, the spa at the Resort Barrière in Ribeauvillé is the perfect place to take a break and regain energy. Its balneo area is superb and covers an area of 3,600m2. There are two indoor pools and an outdoor pool area with a view of the vineyards and the rolling Vosges countryside. In addition, the water is heated to 34°C. Don't miss the sauna and scrubbing activities, as well as the five cabins where the treatments given make use of traditional Chinese medicine techniques and products from wine therapy. Alsace obliges!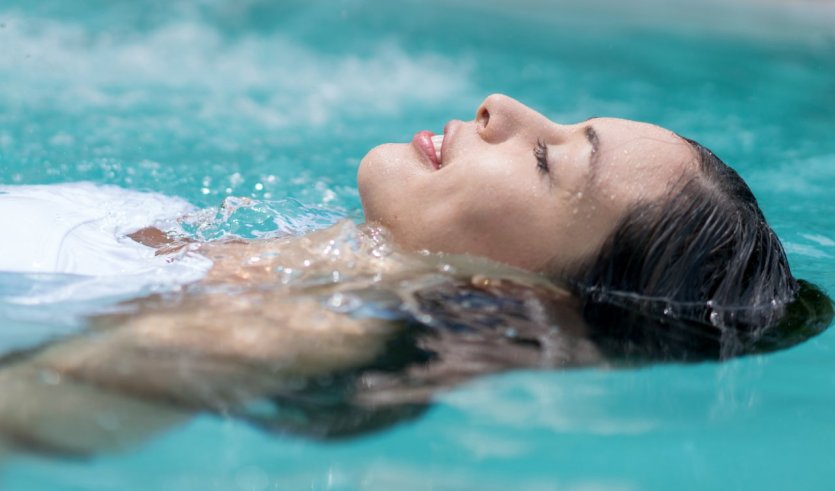 4- The Evian Source Spa at the Royal Evian Resort Hotel
The setting could not be more conducive to relaxation since this luxurious spa is located in a hotel on the shores of Lake Geneva. 1,200m2 dedicated to the body and mind. The decoration is in the Belle Époque style, and there are deckchairs, armchairs and small tables for a quiet moment. The two swimming pools, one inside and one outside, are of course heated as they should be for a swim. Other facilities include an outdoor hydrocontact course, a sauna, a hammam, a cold bath and a whirlpool. The treatments are also part of the program with no less than 24 cabins.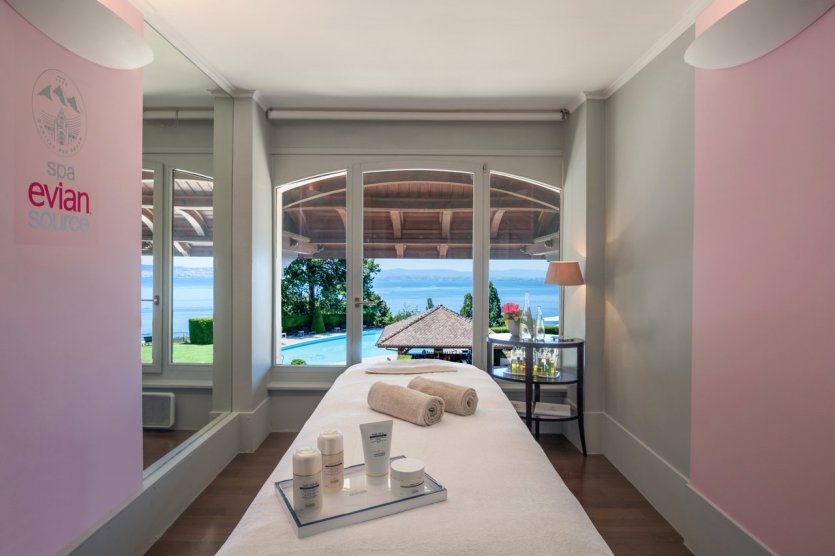 5- The spa at the Terre Blanche Hotel Spa Golf Resort in Tourrettes
If the Var is a department that invites you to relax, it is not only because it has beautiful hilly landscapes and beaches with translucent waters, but also because you have the opportunity to spend a pleasant time at Terre Blanche, in Tourrettes. This spa is located in a hotel surrounded by an oasis of greenery. The indoor swimming pool is superb with its beautiful columns, contemporary paintings and zen atmosphere. The place also has a fitness area where you can practice yoga, Pilates or body sculpt with a coach; a beautiful terrace with deckchairs outside for tea; a beauty area and 12 cabins to receive treatments and massages.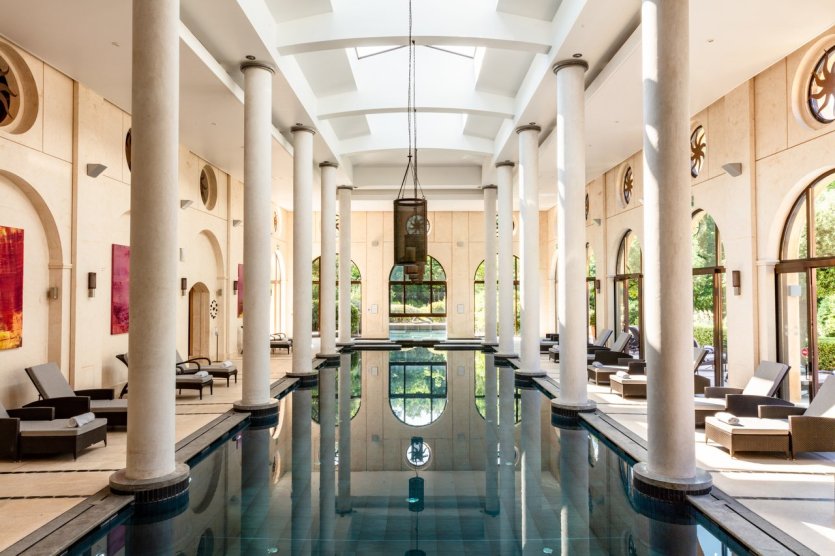 6- The Yonaguni Spa at the Parc Hotel in Obernai
Beware, all those who enter this spa inObernai must know that they are setting foot in a place that has won one award after another and is one of the most beautiful spas in the world. It is also located in Alsace and has a superb swimming pool with bay windows. The other areas are darker, but this is actually to create a more intimate atmosphere and conducive to rest. There is also a whirlpool, a sauna and a steam room. Water world, relaxation rituals and gourmet moments are also part of the day's program. A unique place of its kind in the eastern part of France.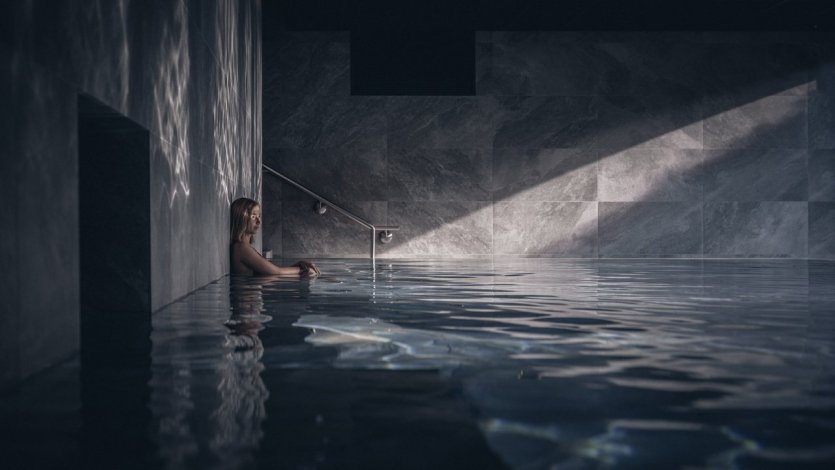 7- Les Sources de Caudalie of the hotel La Grand'Vigne in Martillac
An original spa because it is located in the heart of a beautiful Bordeaux country house in the middle of the Graves vineyard in Martillac. It is a vinotherapy spa, whose treatments combine the virtues of naturally warm water drawn from several hundred meters underground, with the benefits of the vine and grapes. In a world made of noble materials, wood and stone, you can enjoy a red vine bath, a hammam session or a massage based on grape seed oil. The vinotherapists are there to take the public towards a maximum relaxation.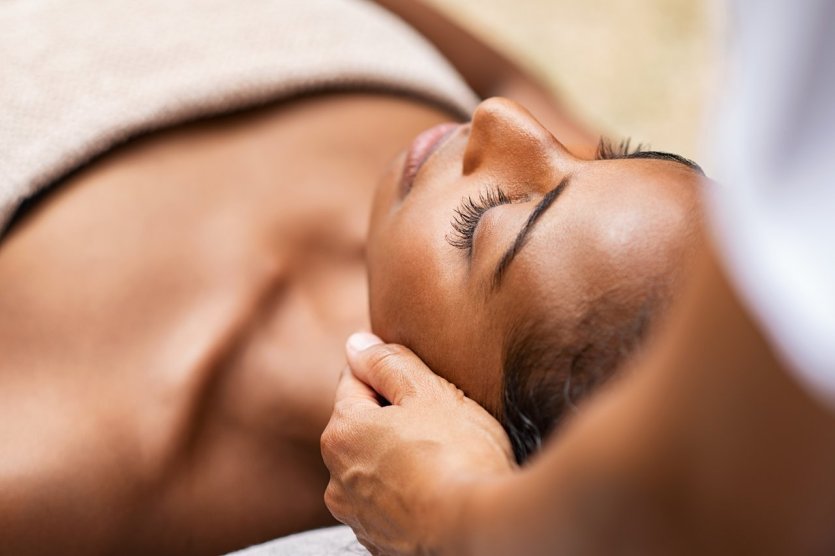 8- The spa Les Sources de Marie in Arc 1950
A spa located in front of the mythical Mont Blanc, we immediately say yes! We enter in steaming hot water pools and we let ourselves go while observing the nature, always grandiose in this mountain universe. There are also several thematic caves, an aquatic course that alternates between hot and cold with hammams, whirlpools, sensory showers and outdoor sauna. Seven cabins, including three doubles, are also available for men and women to enjoy body and facial treatments. A signature treatment encompasses face, shoulders and neck, simply divine.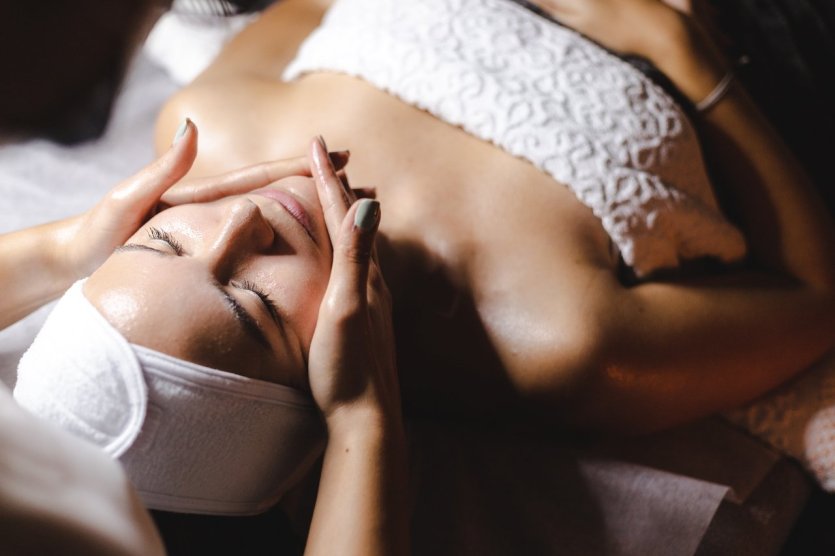 9- The Villa Saint-Ange spa in Aix-en-Provence
Located just a few steps from the beautiful city center ofAix-en-Provence, the Villa Saint-Ange is a luxurious hotel. It is a true 18th century Provencal bastide nestled in the heart of an 8,000m2 Provencal estate with garden. The spa is superb, especially the large outdoor swimming pool bordering the bastide and where there are multiple deck chairs to enjoy the sun. There is also a fitness area with a weight bench, a water rowing machine and a WaterRower bike. You should also not miss the massage room where you can enjoy a treatment from one of the establishment's skilled practitioners.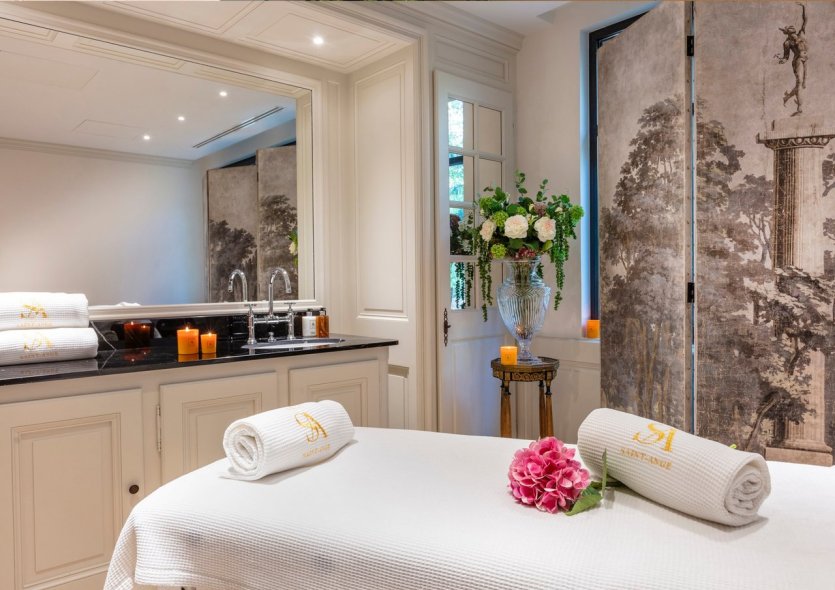 10- Georges Blanc spa by Sym Biologic System in Vonnas
A superb place in the Auvergne-Rhône-Alpes region to awaken your senses! 1,500m2 with a superb indoor pool surrounded by large bay windows. Jets, hydromassage, the pool knows how to vary the pleasures. For maximum relaxation during a visit to this exceptional place in Vonnas, you can also join the sauna, the hammam, the relaxation area and the cabins for personalized treatments. The products used for the treatments are Ecocert certified, with clinically proven results. The space could not be brighter and allows you to keep an eye on an elegant park facing south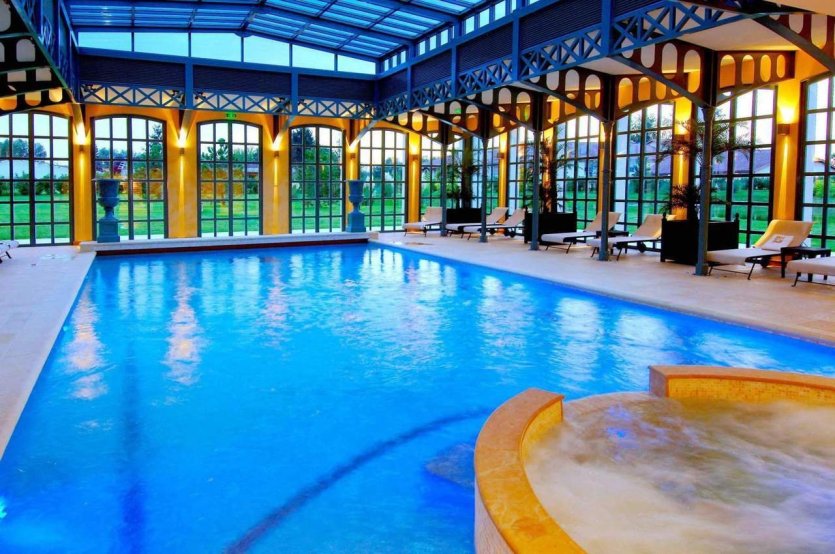 Learn more about Paris (75010)