In the far south of Corsica, Bonifacio is perched on white limestone cliffs and looks out over the horizon in an enchanting setting, as any good tourist guide to the city will show you. The upper town, fortified, is steeped in history. The houses are built on the cliff, and enjoy a breathtaking view of the mouths of Bonifacio and Sardinia. It can be reached by climbing Saint-Roch, which leads to the Genoa Gate. A chapel erected in his honour commemorates the dead of the plague in the 16th century, and a Merendella is held on his feast day, August 16. Another inescapable part of the city, the Bastion de l'Etendard offers an interesting visit and superb views. The marina is a very pleasant place, and its port, sheltered from the winds, is very busy. It is a starting point to discover Bonifacio by sea. The shuttles generally offer an excursion to the sea caves, to Carvallo Island or to the Lavezzi Islands nature reserve. Finally, lovers of swimming and idleness, the many beaches of Bonifacio will not fail to seduce you.
When to go to Bonifacio?
When to go to Bonifacio? If the crowd of tourists annoys you, avoid the very tourist season, from the beginning of July to the end of August. Prices are quite high at this time of year. It is best to visit it from April to June, and from September to November. Especially since Bonifacio's climate is pleasant from April to November, and the great sunny weather is guaranteed from May-June to mid-September.
Precious indication: the average sea temperature is 15°C in winter and 25°C in summer (it often rises above 26°C in July and August).
Weather at the moment
Weather all year round
Bonifacio enjoys a Mediterranean climate, pleasant all year round. The city, like the island in general, has 300 days of sunshine per year and an average temperature ranging from 15.5°C in winter to 28°C in summer. In autumn, the maximum temperatures are around 26°C in September, 20°C to 22°C in October and 17°C in November. Spring is also pleasant ñ with 17°C in April ñ and over 24°C to 26°C in June.
Prepare for your trip Bonifacio
Transportation
Car Rental
Taxi
Tailor-made trip
Accommodation & stays
Find a hotel
Holiday rental
Services / On site
Book a table
Activities & visits
Bonifacio travel inspiration
Pictures Bonifacio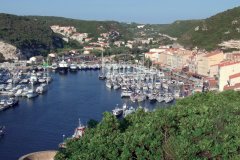 Discover Bonifacio
Practical information
When to travel?
When to go to Bonifacio? If the crowd of tourists annoys you, avoid the very tourist season, from the beginning of Ju...
Read more about it
Weather forecast
Bonifacio enjoys a Mediterranean climate, pleasant all year round. The city, like the island in general, has 300 days...
Read more about it