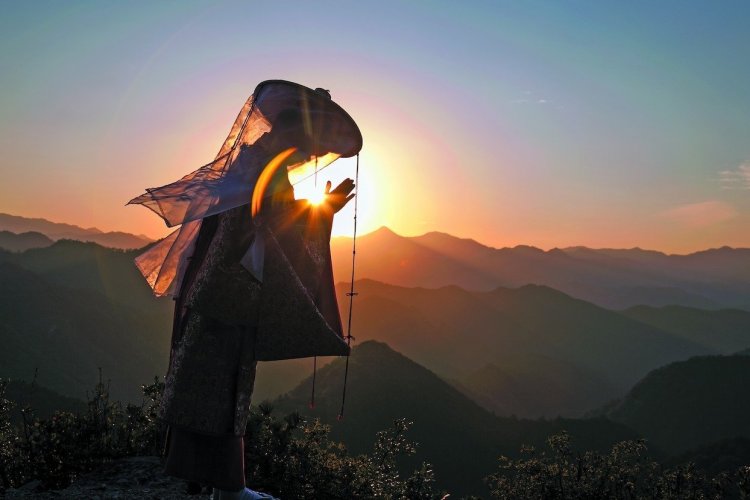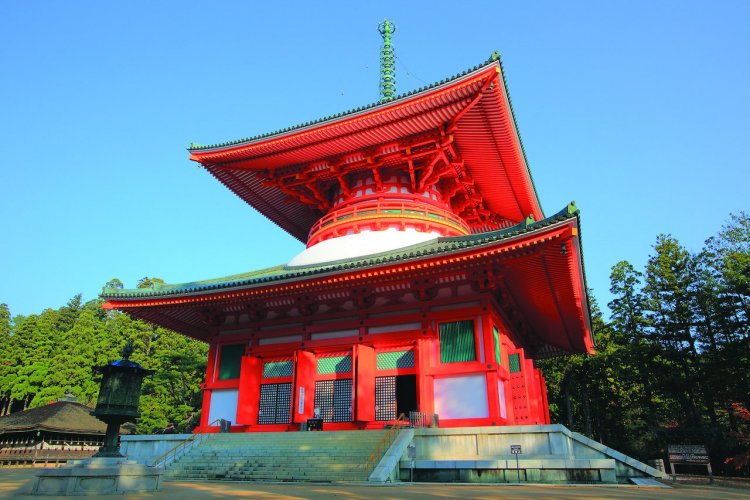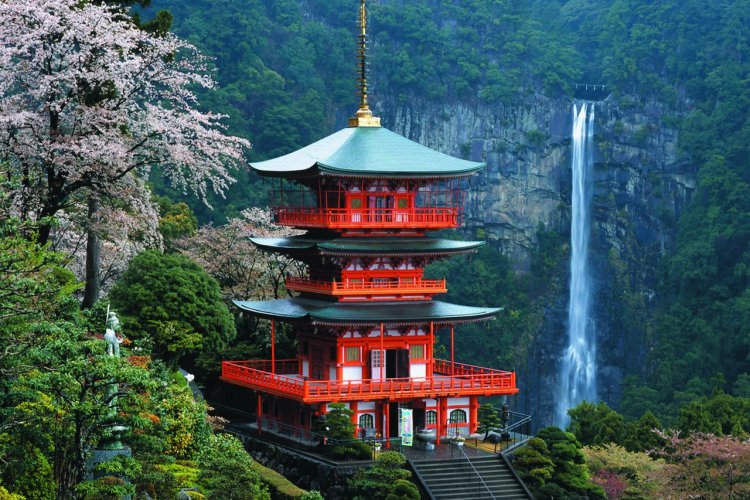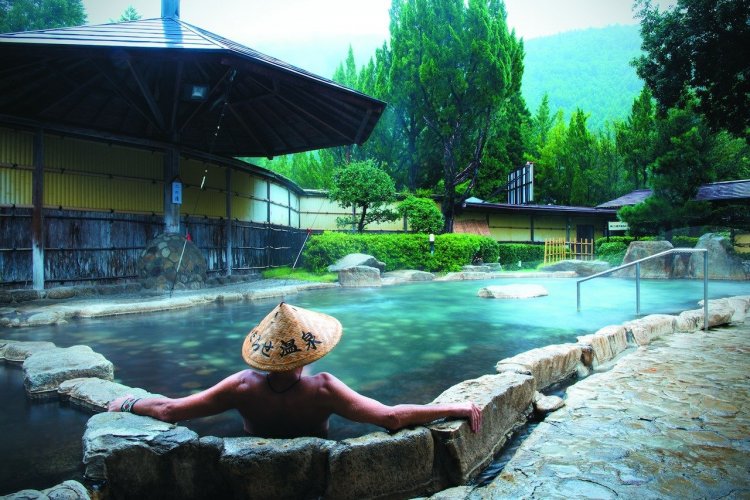 In the land of the rising sun, Wakayama Prefecture is considered to be the spiritual heart of Japan. The region is dotted with holy sites including Kōyasan and Kumano, both of which were listed as UNESCO World Heritage Sites in 2004. These sites are the embodiment of a cultural landscape that has been maintained for centuries, through ascetic spiritual practices harmoniously linked to nature. If nature is really able to bring humanity closer to the cosmos then Kōyasan is proof of this. While Kōyasan embodies Buddhist serenity, Kumano is dedicated to Shintoism, here remains Japan's unique belief, the cult of nature and Shinto-Buddhist syncretism that has persisted for more than 1,000 years, thanks to pilgrimage routes travelled by man since ancient times.
Kōyasan
Located in the lush park of Kōya-Ryūjin, whose eight mountain peaks and basins evoke the petals of a lotus flower, Kōyasan enjoys a densely natural environment. The ever-present greenery makes Wakayama an ideal destination for adventure activities such as trekking, hiking, cycling, diving, canoeing, kayaking, etc. Kōyasan is home to an active monastic centre founded twelve centuries ago by the great monk Kūkai, making it one of the most sacred sites in Japan. Dedicated to the study and practice of esoteric Buddhism, his wish was to establish a remote monastery. He wanted it to be located away from verbal exchanges, where Buddhist monks could practice and pray for peace and well-being in peace and quiet. The faith of Kōbō-Daishi Kūkai has been supported by several generations and has attracted pilgrims for more than a millennium. Kōyasan is the Mecca of the Shingon Buddhist religion, this belief has a wide follow up throughout Japan. There are 117 temples scattered throughout Kōyasan and more than 50 of them offer accommodation and meals called "Shukubo" (temple accommodation). Here people like to enjoy shōjin ryōri (Buddhist vegetarian meal), practice meditation and participate in the morning ceremony where monks sing mantras to show daily appreciation to Buddhist saints and ancestral souls. At dawn, it is possible to attend the prayer of the fire or the prayer of the wind made by the monks, this short immersion offers tourists passing through an authentic experience.
Danjo Garan and Okunoin are the two most important sanctuary areas in Kōyasan The name Garan is derived from Sanskrit and means "a quiet and isolated place" where Buddhist monks can train. Okunoin is a cemetery and sacred area that extends about 2 km from the Ichinohashi Bridge to the mausoleum of Kōbō-Daishi. Walking on this path bordered by imposing hundred-year-old cedars is like walking through the history of Japan. Among the trees, there are more than 200,000 commemorative stūpas trees dedicated to both important historical figures and commoners. There are 7 different pilgrimage routes at Kōyasan, one of the most famous is the "Choishimichi Pilgrimage Route" used by the family and imperial warriors in the past, it extends over about 24 km from the bottom of the Kōyasan mountain. Today, hikers, like the faithful, embark on this 7-hour journey to Daimon, the gateway to Kōyasan - one of the 100 best places in Japan to watch the sunrise and sunset. The itinerary starts from "Jison-in Temple", it is here that Kukai's mother moved and stayed in the last years of her life. However, at that time women were forbidden to enter Kōyasan, so he decided to build the "Jison-in" temple so that his mother could stay at the foot of the mountain.
On the way to Kōyasan, there is an important sanctuary (recently listed as a UNESCO World Heritage Site) called the "Niutsuhime-jinja sanctuary". Niutsuhime is the name of the local deity, and legend has it that Kōbō-Daishi Kukai received the land from Kōyasan by Niutsuhime.
Therefore, although Kōyasan is considered a Buddhist city, there is a Shinto shrine to preserve the spirit of Niutsuhime, and also to respect the divinity that has been transferred from the "Niutsuhime-jinja shrine". This example perfectly expresses Japanese syncretism between Shintoism and Buddhism.
Kumano
Kumano is the name of the southern region of the Kii Peninsula, it is here that nature and spiritual awakening interact. For centuries, its picturesque rivers, its soothing hot springs, its mountains with their lacey waterfalls and its supernatural green forests have been appealing to both body and soul. Kumano has been the destination of pilgrims for more than 1,000 years. Even today, not only Japanese tourists but also those from all over the world are enthusiastic about retracing the country's history, to perceive it and come here, walk on the Kumano Kodō. Pilgrims began to travel to this remote and sacred region during the Heian period (794-1185). The first pilgrims included the emperors and aristocrats of Japan, in search of paradise on earth, they made this arduous journey of 30 to 40 days from the ancient capital of Kyōto. To discover the spiritual soul of Japan, Kumano offers a network of pilgrimage routes leading to "Kumano Sanzan", one of the most famous natural places in Japan (three essential sanctuaries to visit; Kumano Hongū-taisha, Kumano Hayatama-taisha and Kumano Nachi-taisha). Since ancient times, Kumano has nurtured the spirit of belief around nature, in which mountains, rocks, forests, trees, rivers are revered as objects of worship and have been recognized as a sacred place where divinities descend and reside. Thanks to the natural environment, Kumano is also a privileged destination for swimming in the famous onsen (hot springs). Enjoying the atmosphere in the onsens after a hike to Kumano Kodō, helps to dissipate the aches and pains of the trip, to keep only the memory of misty forests and beautiful sanctuaries nestled in isolated groves. It is said that this relaxation that soothes the soul will motivate you and rejuvenate you. Water is the key word in the Kumano region, because Kumano is a place of worship for nature and water is essential for all creatures. There is a particular relationship to water because its attributes are numerous, and the legends associated with onsens are specific to the regions and their cultural past. In addition to trekking on the Kumano Kodō, you can also enjoy activities such as diving in Kushimoto and kayaking in the Kozagawa River.
The Pilgrimage Routes of Santiago de Compostela and Kumano Kodō are the only two pilgrimage routes listed as UNESCO World Heritage Sites, mainly dating from the 10th century and visited by millions of pilgrims. Next year will be the 20th anniversary of the "twin roads" agreement between these two pilgrimage routes.
Smart info
When? When? The region can be visited all year round, spring arrives at Kōyasan about a month later than in other parts of Japan, and cherry blossoms (Sakura) hatch in mid-April. In summer, it is cooler than in the surrounding area because Kōyasan is located at an altitude of 900 m. In autumn, you can admire the beautiful maple and ginkgo leaves (also called silver apricots). It snows at Kōyasan in winter and the landscape changes fundamentally so that this atmosphere attracts visitors. Kumano Kodō also enjoys four seasons but with very little snow in winter because Kumano is located in the southern part of Wakayama, the weather is milder and warmer
Getting there. To get to Kōyasan, it takes 1 hour and 50 minutes by bus from Kansai Airport (KIX), and 2 hours by train from Ōsaka For Kumano Kodō, it takes about 2.5 hours by train from Ōsaka to JR Kii-Tanabe Station, the gateway to Kumano. The Shinkansen (train) is useful for travel, but the fares are a little high, however thanks to the JR Pass it is possible to get an unlimited pass for variable periods (1 to 3 weeks). This system is quite cost-effective.
Find your flight at the best price - Compare
Rent your car at the best price - Compare
Useful. To prepare your stay as well as possible.
VISIT WAKAYAMA - More information on the website
Book your hotel at the best conditions - Compare
Find a cultural or sporting activity - Find