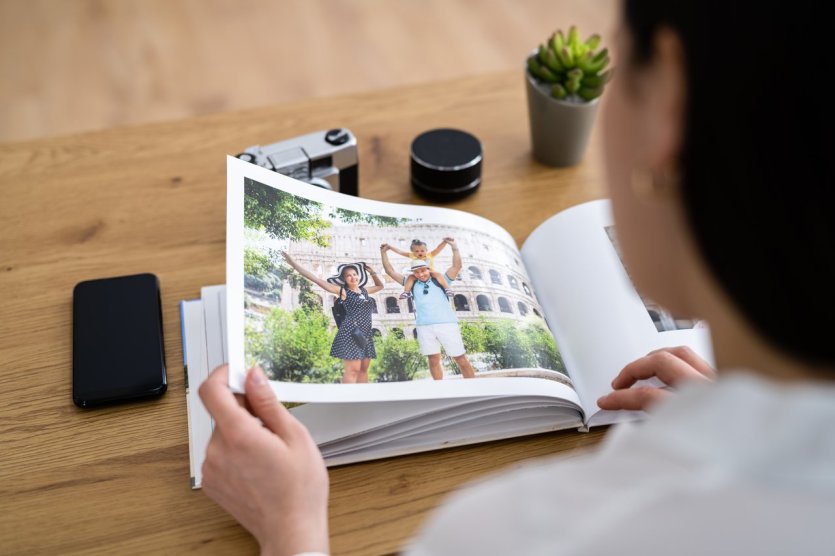 A week on the French Riviera, a weekend in a bed and breakfast among the Auvergne volcanoes or a citytrip in a European capital, 2021 may have been the opportunity to enjoy a vacation far from home and spend time in lively cities, historic villages or in the heart of beautiful landscapes. We surely took the opportunity to take a thousand and one pictures of moments with two people, family or friends. Rather than letting these images sleep on your smartphone or computer, why not create a travel photo album instead? Totally customizable, you'll have a beautiful object in no time to store among the books on the shelf, and to bring out on many occasions!
Create a photo book to showcase your travel photos
We can't count the number of photos, especially travel photos, that are in our cell phones and computer libraries. So many that we are sometimes forced to sort through them and delete some to make room. However, there is no doubt that there are some great images among them that deserve to be highlighted and visible to all. You don't have any more space on your walls to frame them and you want to avoid prints that will end up in the closets? Then the travel photo book is the ideal solution to sublimate your pictures and organize them.
Creating a travel photo album is now child's play. Everything is done online from home and in just a few clicks. The advantage is that you can personalize the object as much as you want, as much in the distribution of photos by theme as in adding texts and other inscriptions that will make the book unique! The travel photo album allows you to tell a story and to have emblematic memories at hand.
The photo book also offers a beautiful image quality. We are always amazed by the color rendering and the attention to detail. In addition, you can also choose the format (landscape, portrait, square), the binding and the type of cover.
A beautiful object to create links and share
The interest of travel is also to be able to share them with your loved ones, especially those who stayed at home. With the travel photo book, we find the pleasure of long Sunday afternoons flipping through the pages and talking about all sorts of anecdotes about the trips that have animated the year 2021. There is nothing like evoking good memories to spend a pleasant moment together, but also to arouse the desire to travel with enticing photos that make you want to pack your bags quickly.
And to all those who are looking for an original gift for the birthday of a loved one with whom they went on a trip in 2021, tell yourself that offering a travel photo album is always a pleasure. It is even a source of great emotion!
A few tips for a successful travel photo book
The travel photo book offers multiple possibilities, and it is clear that we take great pleasure in making it online. In order to have a successful and emotional photo album delivered to you, here are some tips to follow.
First of all, you should select your photos carefully. Whether it is a landscape, a picture of a dish in a restaurant, a party or a selfie, it is important to choose those that are of good quality, that is to say without blurred parts or with a finger that appears in front of the lens. The advantage today is that even smartphones offer the possibility of making great images.
Then, you can group them by themes and give them a title. You should also not hesitate to add phrases and other inscriptions that evoke pleasant memories.
Finally, making a travel photo book online allows you to be original, by personalizing it with colorful or patterned backgrounds, cliparts and layouts that are out of the ordinary. Everyone should use their imagination to create something unique