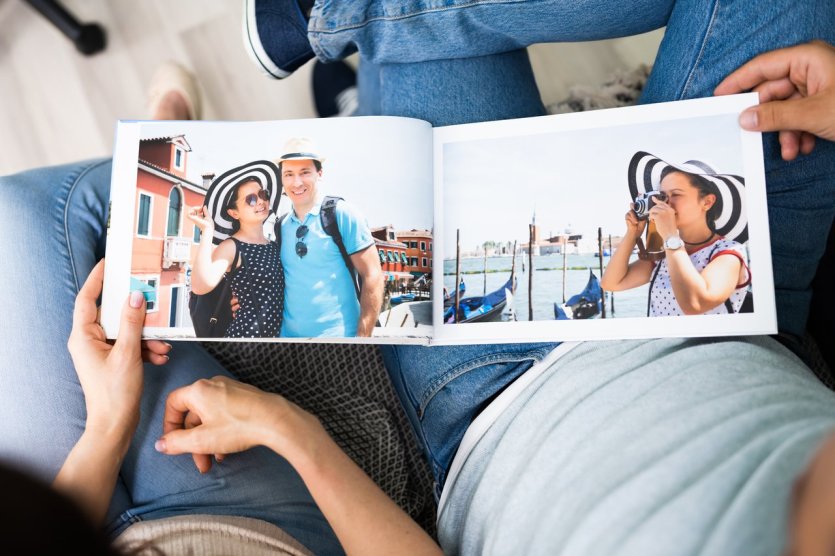 When you return from a trip, you often have a multitude of images on your phone or in your camera. Taking pictures has indeed become more and more popular with the use of smartphones, and taking beautiful pictures is now within everyone's reach. However, it's a shame to let all those photos sleep in hard drives, especially when you've had the opportunity to immortalize breathtakingly beautiful landscapes! There are actually a multitude of possibilities to showcase your photos and expose them to the eyes of others. Enough to give beautiful ideas to all those who return from a trip, whatever the destination around the world
Creating a photo album with character
This is the most classic option, but there is really something beautiful to be made with photo albums today. The photo album is handy because you can take it with you wherever you go and show your holiday snaps to whoever you want, family or friends. By choosing to create a photo album on the Internet, you can have a nice time over a hot drink after a meal and tell the juicy details of a trip. In addition, today, online photo album sites allow you to create original objects. You can very easily organize the photo book according to themes, add texts and captions, or even airline tickets and other documents related to your trip. It's up to you to let your creativity speak for itself to create an album that will capture all the attention. You can also make someone with whom you have shared a trip happy, by giving it as a gift for a birthday party, for example.
In addition, on the Internet, there are now sites that help us to create an album that stands out, with tools that help us to organize the images chronologically and arrange them in the best possible way on the pages. All this is done in a few clicks and creating a photo book is a nice moment to live alone, or with a loved one. You can sort through the pictures, remember the sweet moments, let your imagination run wild, and play the artist! Before sharing your creation with others once you have the object in your hands. The photo album has become a reference for those who wish to exploit their most beautiful travel images and bring them out of a sleep they don't deserve
Many other possibilities for original objects!
There are many other ways to showcase beautiful travel photos. And first of all, think about the wall decoration of the house. It is not only professional photographers who are able to make beautiful photos to show to the world. If you take a good look in your smartphone or camera, you can be sure that some images have something special: a mountain panorama, a sunset on an idyllic beach, a UNESCO listed monument or a local scene, everyone is nowadays able to create unique pictures. To highlight them, what better way than to make a poster or a photo on canvas? You can enjoy them at home by hanging them on the walls or putting them on a shelf. It's an opportunity to play with the colours of the furniture and the walls and to personalise your interior as you wish!
Another option with personalized objects. For those who are totally in love with some of their travel photos, make sure you can look at them at different times of the day and let others enjoy them. Travel photos can be printed on objects such as a mug, cushion, wall calendar, memory box, tote bag, smartphone shell or snow globe. And why not also on Christmas ornaments?
Not forgetting fun games such as puzzles. Whether you're small or large, what a pleasure it is to recreate a landscape that you've trampled on with your feet before framing it and hanging it in a room in the house.
There is no longer any reason to let travel photos sleep. Because continuing to admire them in whatever form means reliving pleasant moments that mark a life, continuing to travel by the spirit, but also to make others travel