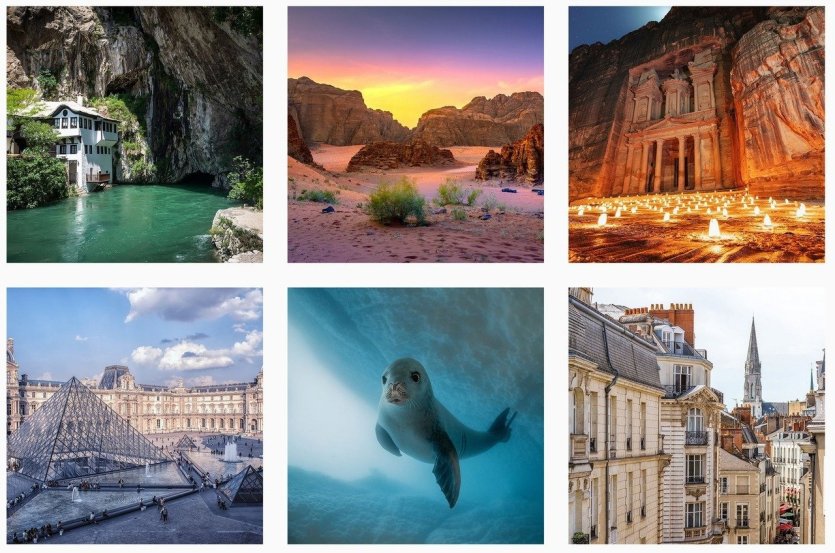 For several years now, traveling influencers have been making us dream with their videos and photos taken around the world. On YouTube, Facebook and Instagram, subscribers are more and more numerous to follow the adventures of these travel enthusiasts who have only one desire in mind: to share with their community photos of the most beautiful landscapes and monuments from here and elsewhere, but also their encounters with locals, their culinary experiences and good deals. The tourism and travel sector is feeling the full impact of the health crisis surrounding COVID-19, and like many people around the world, travel influencers are also confined to their homes. However, more than ever we need to escape through reading, music, but also virtually, and until we can jump on trains and planes again, travel influencers are bursting with imagination to keep us dreaming.
Podcasts, cooking, lifestyle, local reports, these methods to continue to escape
With the spring and then fall confinements, 2020 will have been, whatever happens, a year in which a lot of travel will have had to be postponed. For many industries, including tourism, this is a difficult time, and travel desires may never have been as strong as they are now. To all those who think that this may not be the best time to become a travel influencer, it is important to know that travel enthusiasts already present on social networks do not lack the imagination to reinvent themselves and continue to exercise their activity!
Of course, for the moment they can't travel around the world to make their community discover unusual destinations, but everyone knows how to use their tips to keep the link and offer nice moments to disconnect. Confinement at home can for example be an opportunity to record podcasts on the theme of travel, listening quietly from bed with headphones on and eyes closed. As Live Instagrams are also very successful, this is the time to contact travel professionals or great adventurers to interview them and tell them about their past expeditions. Travel influencers can also take advantage of the confinement to share everything they don't have time to highlight the rest of the time: cooking recipes from the other side of the world and unknown to the general public, photos and videos from past trips that sleep in virtual libraries and that will offer a sweet break to the confined internet users, but also tips and tricks to keep in shape, take care of yourself, travel cheaper or while respecting the environment.
Confinement is also an opportunity for some to refocus on the local. Last summer saw some travel influencers refocus on France as a destination, and the current 20 km perimeter authorized for travel is also a great opportunity to discover the riches present around one's home: heritage elements, the atmosphere of a neighborhood or a corner of nature where it is good to stroll, in the countryside, in the mountains or by the sea. We can see to what extent travel influencers finally have different options for continuing to do their job, differently, but always with a view to amaze us and take us out of everyday life.
How can we keep the flame alive and win subscribers?
For their business to be successful, influencers need to generate a large community of subscribers, keep them and push them to interact. In the travel industry, and even more so in times of confinement, those "digital nomads" who find themselves stuck at home must continue to keep the flame alive with their community and, if possible, win new subscribers.
If we have seen that travel influencers do not lack the creativity to continue to make their community travel from home, the health crisis can also be the time to consider all the elements that allow a profile to stand out. To do this, always be careful to show breathtaking photos! The ones that will inevitably make Internet users want to pack their bags and discover a destination. To do this, you have to take care of the framing, the brightness, in short, offer the most beautiful. The period of confinement is perhaps also the time to work on the quality of the feed, by reviewing the graphic charter to make it even more attractive, by taking the time to complete the descriptions and by using the most popular hashtags. In any case, you should continue to publish regularly, posts with photos and descriptions, videos and stories to show that you are active and always there.
And since the number of followers and their commitment is an excellent indicator of the notoriety of a travel influencer's work, a good way to enlarge your community of travel enthusiasts and gain visibility is to buy followers. This is a service offered in particular by the PremLike site. On the very popular social networks such as Instagram, YouTube, Facebook or Twitter, there are solutions that allow you to buy followers in order to be better positioned in the field of tourism and travel, but also to buy likes and views in order to generate engagement with the videos and photos on the different pages and to play on the virality of its content. The confinement is the ideal time to take stock of its digital strategy in order to optimize it.