Deux-Sèvres
Travel Guide

Book a flight

Find an accommodation
Deux-Sèvres - the capital of Niort - is a department in central-western France that belongs to the New Aquitaine region. Why, the Deux-Sèvres? In reference to the presence on this territory of the Nantes Sèvre, a tributary of the Loire, and the Niortese Sèvre which flows into the Atlantic Ocean. Its capital, Niort, is located in the hinterland. A lot of charm for this destination around jewels like the Marais poitevin, a very particular biotope that can be discovered by boat, on foot or by bike. On this picturesque territory, you can enjoy the unusual water market. Moreover, this terroir has no shortage of flavours and gives treasures such as saffron and truffle and perpetuates the tradition of peasant recipes, including stuffing, a terrine of green leaves and pork, or the fouace of Mothe-Saint-Héray, also known as the fouace of Rabelais, between bread and brioche, with a well kept secret, which has been kneaded in La Mothe since the 16th century. You can cycle on this territory without significant gradients and paddle on the Sèvre river to the Marais, enjoying romantic landscapes along the river or even walk in the national forest of the Chambrille valley. So many opportunities to recharge your batteries outdoors. What else? What else? Visit a museum dedicated to Protestantism and Huguenots before sleeping under a yurt in the middle of a meadow where these Poitou donkeys frolic. You can recognize them by their cross of Saint-Martin on their grey dress. It's the sweet Poitou
Read more
What to visit Deux-Sèvres?
Suggested addresses Deux-Sèvres
When to go to Deux-Sèvres?
When to go to Deux-Sèvres? Due to the mild climate during five months, from June to October, the weather conditions are pleasant for outdoor activities. In winter showers are frequent. In spring the temperature only rises gradually. It is necessary to wait until summer to benefit from the heat from the early morning. Summer is very pleasant except for a few storms. Stay tuned for local weather. As for autumn, it often plays Indian summers and the heat also decreases very slowly until the winter cold. To summarize, avoid December, January and February if you want to enjoy the outdoors. Les Deux-Sèvres is home to part of the Parc naturel régional du Marais poitevin. It is in the early morning and at dusk that you will most easily observe the wildlife of this biotope, which is very rich in biodiversity
From March to November, festivals are scheduled throughout the department. Of course, it is in summer that the concentration of these cultural and festive events is highest. We can mention the Menigoute à la Toussaint festival, the International Ornithological Film Festival (FIFO) which brings bird lovers from all over the world.
Weather at the moment
Weather all year round
80 km from the ocean, Deux-Sèvres is logically and undeniably subject to an oceanic climate. This one is distilled in the Deux-Sèvres with a certain sweetness. Between June and October the temperature is around 20°C. In winter, the average is 9°C. December is the rainiest (about 160 mm) and least pleasant month for this destination.
Prepare for your trip Deux-Sèvres
Transportation
Car Rental
Taxi
Tailor-made trip
Accommodation & stays
Find a hotel
Holiday rental
Services / On site
Book a table
Activities & visits
Pictures Deux-Sèvres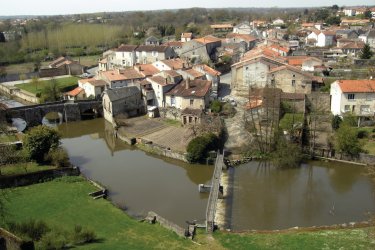 Discover Deux-Sèvres
Practical information
When to travel?
When to go to Deux-Sèvres? Due to the mild climate during five months, from June to October, the weather conditions...
Read more about it
Weather forecast
80 km from the ocean, Deux-Sèvres is logically and undeniably subject to an oceanic climate. This one is distilled i...
Read more about it
Discover the bike tours Deux-Sèvres
Other destinations Deux-Sèvres