Polynesian pirogue in the bay of the Somme, kite flying on the long beaches of Fort-Mahon, rafting in Picquigny or discover the impressive silhouette of the river cathédrale d'Amiens when you arrive by boat... these are some of the pleasures that the Somme can offer you. Hiking in all its forms is also an excellent way to discover the variety of landscapes in the department. The bay of the Somme is one of the most beautiful hiking sites in France. Cyclists can enjoy specially dedicated paths and discover the coastal landscapes during long recreational or more sportive hikes. In the rest of the department, enjoy the Crécy forest or the tow along the Somme. This destination is a must for nature lovers! In the heart of the Somme Bay nature reserve, Parc du Marquenterre is a mecca for bird migration across the continents from Europe to Africa. Arm yourself with good binoculars and enjoy this natural and soothing sight
When to go to Somme?
When to go to the Somme? If you need to reconnect with nature, decompress, blow or enjoy your family, you can go to the Somme all year round for beautiful hikes or bike rides to discover the bay of the Somme, visit the cathedral or zoo of Amiens or the castle of Rambures. From April to September, you can enjoy the beaches, at low tide to look for shells and at high tide to swim with more or less warm water, or practice activities such as sand yachting (in combi), walking or cycling, crossing the bay of the Somme (with its cap) and why not the longe-côte (in combination of course !).
Weather at the moment
Weather all year round
The climate of the Somme benefits from two influences that differ quite clearly in terms of the distribution of climate actors in its geography. In its western and northwestern part, the department benefits from an oceanic influence marked by more frequent and abundant rainfall than inland. Temperatures are milder on the ocean side than in the interior, but overall, the Somme is very pleasant all year round.
Prepare for your trip Somme
Transportation
Book a ferry

Car Rental

Taxi
Accommodations
Find a hotel

Holiday rental
Services / On site
Book a table

Activities & visits
Pictures Somme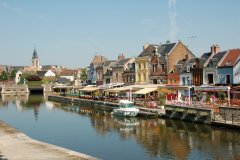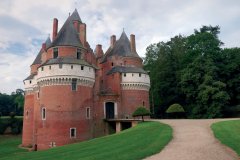 Discover Somme
Practical information
When to travel?
When to go to the Somme? If you need to reconnect with nature, decompress, blow or enjoy your family, you can go to t...
Read more about it
Weather forecast
The climate of the Somme benefits from two influences that differ quite clearly in terms of the distribution of clima...
Read more about it
Discover the bike tours Somme